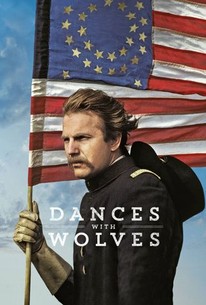 Dances With Wolves
1990, History/Drama, 3h 0m
130 Reviews
100,000+ Ratings
What to know
critics consensus
Dances with Wolves suffers from a simplistic view of the culture it attempts to honor, but the end result remains a stirring western whose noble intentions are often matched by its epic grandeur. Read critic reviews
Where to watch
Rent/buy
Rent/buy
Subscription
Rent/buy
Rate And Review
Dances With Wolves Photos
Movie Info
A Civil War soldier develops a relationship with a band of Lakota Indians. Attracted by the simplicity of their lifestyle, he chooses to leave his former life behind to be with them. Having observed him, they give the name Dances With Wolves. Soon he is a welcomed member of the tribe and falls in love with a white woman who has been raised in the tribe. Tragedy results when Union soldiers arrive with designs on the land.
News & Interviews for Dances With Wolves
Audience Reviews for Dances With Wolves
I watched the extended version of this film, and I just have to say, any film that can run for FOUR HOURS and not come out the other end as boring pile of garbage, is worthy of some pretty serious praise. That said, Dances with Wolves is not really in my wheelhouse, and although it held my attention I can't see myself probably ever watching it again. Costner knows what he's about, and that's great, but a four hour film about American history with strong romance elements is never going to blow me away.

Well, it's not a bad movie, but I didn't really buy into the hype about "Dances with Wolves". It could be entertaining, but it could have been more so. It was decently acted, but it could have had a better draw. Diving right into the story, it follows Lt. John Dunbar, a Civil War soldier who goes on an adventure in the deserted wilderness inhabited by Sioux Indians. When they first meet, there is hostility, of course, over race-related issues. The indians fear that the white man is coming and Dunbar warns them about it. All while being welcomed into their tribe, falling in love with a white woman known as Stands with a Fist, and developing a relationship with nature. All right, a couple of problems right off the bat. This story is absolutely nothing new, I've seen it before. Hollywood's inability to tell a fleshed out well-developed story revolving around race is surprising. It's always the innocent tribe and the greedy white man wanting to take over. There's no real explanation to this, only because they look different they are natural enemies. I'm sure actual historical accounts of this had a deeper meaning, but like other films that do this, it's just "They look different, so we don't like them". Second, Costner isn't bad, but his character isn't really that interesting. I'll get to the positives later, but he just seems sort of bland and a big chunk of the movie is just hearing him write in his diary with not so memorable lines. The third thing I want to bring up is that the film is much too long. And it's rare that I say that because it's just how movies work. It takes a while for the plot, scenery, and characters to fully come into place while also being entertaining. But is there really any need to make this 3 hours long? It's a pretty simple story with most of the characters not having that much intrigue, it could have been at least a little shorter. On top of that, it really had nothing to do with the Civil War, which to me was a disappointment. Now onto the positive aspects, one character that is interesting is Stands With a Fist. The film should really be about her, she's the one with a tragic back story of losing her family and being raised by the tribe. And her existing in the Sioux world creates more drama between the two opposing sides. She's more interesting than the typical pretty girl love interest that is usually in these movies. Next, when the story does revolve around the survival of the Sioux tribe, it gets to be interesting. The scene in particular when they hunt the buffalo is fun to watch, and the insight to a lot of the other cultural rituals they have can look great too. Another notable scene is where Dunbar, or Dances with Wolves, dances around the fire earning him his nickname as the wolf Twosocks comes up. That's one symbolism I got into was his relationship with the wolf, which did point back to the rivalry that the film was about in symbolizing how best to handle the enemy. But those scenes were still entertaining. It's not great, it's not terrible, it's just okay. I just really wanted to like this film more than I did, and for me it was kind of a mixed bag.

Costner's post Wolves reputation has harmed the historical treatment of this film me thinks. It seemed ground breaking at the time but perhaps it was just a better version of Little Big Man. Nonetheless, I think there will be a revival of appreciation a few years hence.

Breathtaking shots of the old western frontier, impeccable production design, brilliantly-directed battle scenes and a touching narrative centered on the joining of a lonesome Civil War soldier with a Sioux tribe make "Dances with Wolves" and its staggering four hour running time worth watching. Kevin Costner does just as well in front of the camera as he does behind it, giving his best performance as Lieutenant John Dunbar. "Dances with Wolves" has acquired a lot of hate over the years for being supposedly 'inauthentic' and the fact that it beat out "Goodfellas" at the Academy Awards for the Best Picture Oscar, but it's one of the great cinematic epics.
See Details