Lo Straniero (The Stranger)
(1967)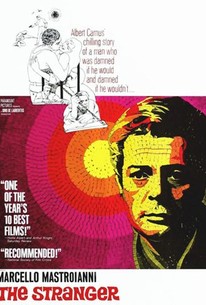 Lo Straniero (The Stranger) Photos
Movie Info
The Stranger is a literal (but still very cinematic) adaptation of the novel by Albert Camus. Marcello Mastrioanni stars as Meursault, a man who feels utterly isolated from everyone and everything around him. This alienation results in sudden, inexplicable bursts of violence, culminating in murder. The subsequent trial of Meursault manages to convey the oppressive heat of its Algerian setting with director Luchino Visconti's usual veneer of elegant decadence. Though set in the 1930s, the sensibilities of the film were very much attuned to the 1960s: the problem was that Camus' sentiments had been adopted by so many other filmmakers of the period that The Stranger seemed rather commonplace. The film was originally released in Italy as Lo Staniero.
Critic Reviews for Lo Straniero (The Stranger)
Audience Reviews for Lo Straniero (The Stranger)
½
The fact that this is an extremely faithful, line-by-line adaptation is ironically the problem with this film, especially considering Mastroiani's off-the-mark, far-from-nuanced composition. Besides, Visconti's cheap direction doesn't help with all the horrible zooms and inept lighting.
Carlos Magalhães
Super Reviewer
½
I see that I'm the only person to have watched this on RT, and that doesn't come as a surprise. Though the director (The Leopard) and the lead actor (8 1/2, La Vida Dolce) are renown Italian filmmakers, I wasn't able to find this films anywhere except on YouTube and with English dubbing. Anyway, The Stranger is a classic novella by Nobel-Prize Winner Albert Camus which I have read twice and has become my favorite book. I've read all of Camus's other works (The Plague, The Fall, Myth of Sisyphus, Exile and the Kingdom), and since then I have been anticipating the day that I would have the time to watch this film. So I finally got around to watching it, and it was pretty awkwardly put together and not worth the wait. It's late and I need to go to bed, but I have a paragraph of notes about what I'll write about in my review tomorrow. 70/100
Simeon Deutsch
Super Reviewer
Lo Straniero (The Stranger) Quotes
There are no approved quotes yet for this movie.