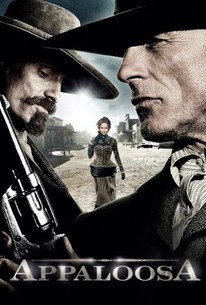 Appaloosa
2008, Western/Drama, 1h 56m
164 Reviews
50,000+ Ratings
What to know
critics consensus
A traditional genre western, Appaloosa sets itself apart with smart psychology, an intriguing love triangle, and good chemistry between the leads. Read critic reviews
Where to watch
Rent/buy
Rent/buy
Rent/buy
Rate And Review
Movie Info
Virgil Cole (Ed Harris) and his longtime friend and partner Everett Hitch (Viggo Mortensen) travel the 1880s Southwest, bringing justice to lawless towns desperate enough to hire them. In the mining town of Appaloosa, malevolent rancher Randall Bragg and his cronies ride roughshod over the frightened citizens. As Cole and Hitch work to end Bragg's reign of terror, an unconventional widow (Renee Zellweger) arrives, complicating the job and threatening their bond.
News & Interviews for Appaloosa
Audience Reviews for Appaloosa
"Appaloosa, runnin' wild in the dead of the night; Appaloosa, you're the message of love and light!" No, forget Gino Vannelli and all of his funky jazz, and for that matter, forget The Black Crowes, because even though their bluesy flavor fits this discussion a little better than funky jazz, they're still too new, and for all of you old folks-I mean, old-fashioned folks who are tired of the revisionist western movement, here's a newer western so traditional that it's hard to say it's title without making some kind of a cowboy howl. It's even got that classic "stranger in a stranger land" narrative, only this time, it's "the m[u]e[/u]n with no name", with a better sense of humor and a worse taste in women. Man, I'm trying so hard to associate this film with classic western cinema, but this is so faithful to the real, non-Hollywood old west that the best-looking woman these guys can find in town is Renée Zellweger, you know, until Ariadna Gil shows up. I mean, Gil isn't around for very long, and isn't exactly great-looking, but after Liz Tyler, you'd think that Viggo Mortensen could do a little better than the female Gilbert Gottfried (Oh, it's so brutal, but you know it's true), although, in all fairness, a handsome as he usually is, he's not really pulling of the moustache/goatee combo here. Yeah, in addition to being the m[u]e[/u]n with no name, we seem to be looking at a Butch Cassidy and Sundance Kid duo which is not nearly as good-looking, but not too much less charming... or slow. Don't get me wrong, the film is adequately entertaining, like "Butch Cassidy and the Sundance Kid", but it's still not without its shortcomings. As I said, this is one of those classic western stories of strangers wandering into and ultimately having an impact on a town, only there's a little more development than that, and that makes the lapses in exposition harder to ignore, as they undercook certain, often significant motivations and all but convolute an already limp progression of the narrative. You'd figure that there would be enough depth to material for the film to keep tight with a runtime of almost two hours, but in the end, there's something a little draggy about this intentionally slow-burn western, partly in a script which carries its excesses to plotting, despite expository shortcomings, and largely in feel. Ed Harris, as director, takes a dry approach that isn't so extremely chilled that the film is ever all that dull, but is rarely as biting as it perhaps should be to sustain consistent entertainment vlaue, whose lapses are considerable, and reflective of a thinness even in the conceptual intrigue of this story. The film's story is juicy enough for an inspired interpretation to hold the potential to compel pretty thoroughly, but such an interpretation would have to work hard to get to that rewarding point, as there is something a little dramatically lacking in this uncommonly unadventurous western of limited momentum and consequence, which often runs to melodramatic to compensate for natural shortcomings, and doesn't even do so uniquely. I joke about this being a traditionalist western, but when the film fails to keep comfortable with its potentially refreshing marriage of old-fashioned and modern western storytelling sensibilities, it simply devolves into conventions, until it comes out all but feeling hopelessly Hollywood in its predictability, and laziness. The laziness is limited, sure, but it is there, and like I said, inspiration cannot lapse if this western hopes to reward through all of its natural shortcomings, rather than hit such subtle, but sure missteps as the developmental, pacing and dramatic issues. The final product falls shy of rewarding, but just shy, because when it is inspired, it's pretty compelling, at least visually. There's not much to Dean Semler's cinematography at all, let alone all that much which is artistically refreshing, but Semler's realized marriage of handsomely clean definition and a hint of western grime capture the era pretty handsomely, almost as much as art direction by Steve Arnold that formulaically, but nonetheless distinctly does justice to the New Mexico landscape of the 1880s. Yeah, there's not much to write home about even when it comes to the looks of the film, but still, the film is pretty good-looking, with cinematography and production values which almost immerse, with the help of Ed Harris' thoughtful direction. Mind you, Harris' direction is too thoughtful, limiting entertainment value something fierce with atmospheric dry spells, but never letting it slip too much, securing it with some subtle style and dramatics which bring depth to the telling of a story that, honestly, was never to have all that much depth. Natural shortcomings plague this somewhat traditional Hollywood and unsubstantial narrative, but there is still intrigue to this portrait on men of the law of the Old West days, and it is made palpable the most by Harris' and Robert Knott's writing, which, for all of its pacing problems, melodramatics and conventions, is never short on thoroughly clever dialogue, as well as some memorable humor, nor is it too short on drawing interesting, if undercooked characters. It's the smarts that mostly sustain the entertainment value which anchors a lot of this film's engagement value, make no mistake, but if there is dramatic effectiveness to bring the final product to the brink of a rewarding state, it thrives on highlights in Harris' and Knott's characterization, and on highlights in acting. Jeremy Irons' gritty charisma comes in handy when projecting an antagonistic persona, like it always does, and Renée Zellweger, while, in my honest opinion, not attractive enough for the chemistry between her and the leads to be all that organic, charms and occasionally compels enough to patch up something of a connection with the leads that still pales in comparison with the chemistry between the leads themselves, both of whom also carry their own distinguished charisma and dramatic highlights. Harris, as an actor, and Viggo Mortensen are thoroughly charming on their own, and when together, like I said, they prove to be one of the brightest dynamic western duos since Paul Newman and Robert Redford (Interestingly enough, this film was actually released "exactly" one week before Newman passed away... for those of you who are into fun facts that aren't in the strictest sense of the word "fun"), and while that, like the dynamic between Newman and Redford in "Butch Cassidy and the Sundance Kid", is not enough to drive the final product as far as it could have gone, it is but one of the strengths that bring the film respectably close to that point. Overall, underdevelopment is decidedly not as big of an issue as dragging to storytelling, which is in turn decidedly not as big of an issue as bland atmospheric dry spells that, alongside natural shortcomings, melodramatics and conventions to the story concept, hold the final product back, but barely, as cinematography, art direction, directorial storytelling, sharp scripting and charismatic performances - particularly by the dynamite duo of Ed Harris and Viggo Moretensen - have enough inspiration to them to make Ed Harris' "Appaloosa" an adequately engaging and sometimes fairly compelling, if ultimately somewhat underwhelming tribute to the traditional western genre. 2.75/5 - Decent

Not quite up there will 3:10 to Yuma but a great Western nonetheless. Great acting and performances from all and Harris did a great job starring as well as directing, producing and doing the screenplay.

After this film, I can't say anything good about Ed Harris as a director. I remember <i>Pollock</i> being really good, but <i>Appaloosa</i> is a total directing abortion. All of the shots are static, wide-angles, and the camera would never be cited for a moving violation. Even the action sequences, which often define the modern western, are obscure. Additionally, although he is a great actor and his work in <i>Reversal of Fortune</i> almost changed the way I hold my cigarette, Jeremy Irons is horribly miscast. Throughout most of the film, he seems to do a bad Daniel Day-Lewis in <i>There Will Be Blood</i> imitation. Finally, in order to restore justice, Cole demands carte blanche, which sends the type of political message that Bush and company are only too happy to receive. The only positive point I can see is how it mildly - and I mean oh, so mildly - defies Western genre conventions by casting doubt on the probable success of the French/Cole relationship. But even this is left unexplored. Looking at this film from every possible way, I can't imagine liking it.

Brilliant location, superb believable acting, great soundtrack all adds up to an essential Cowboy movie to watch for all Cowboy fans and gunslingers !
See Details