Between Two Worlds
(1944)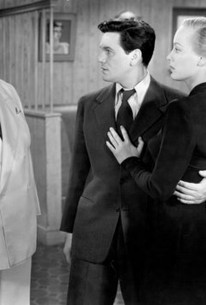 AUDIENCE SCORE
Critic Consensus: No consensus yet.
Between Two Worlds Photos
Movie Info
This allegorical fantasy opens during the war when two frightened Austrian emigrants speed away from Nazi bombings inside a limousine. When they are forced back to the city, they decide to kill themselves. However, they awaken to find themselves upon the strange ship drifting aimlessly on the misty sea.
Audience Reviews for Between Two Worlds
½
Moody fantasy with a terrific cast of characters and character actors all doing excellent work. The weakest link is Henreid but the rest of the players are given individual moments to shine and he doesn't hurt the picture much. Greenstreet, Edmund Gwenn, Sara Allgood and Garfield all stand out but everybody is good and create identifiable people with all their strengths and failings.
Overly sentimental but still entertaining film that had me thinking (a bit anyway) about my life's path. A mixed group of strangers in WWII London are waiting to board a ship that will take them to America. A bomb from an air raid strikes the cab they are traveling in, and they find themselves on what they believe is the ship to America. What they discover about the ship and about themselves is much stranger than anything they can imagine. The cast, including John Garfield, Paul Henreid and Eleanor Parker are good, but Sydney Greenstreet really stands out as the Examiner who will make the final decision about what future path each of these passengers will take. Edmund Gwynn as the steward on the mystery ship is also good, although I couldn't help thinking about Santa Claus every time I saw him :-). For the most part, this was a well-spent 2 hours (or thereabouts). But I felt it was a bit heavy-handed in the "rich = evil, poor = noble" message. I would have liked to have seen a wealthy philanthropist amongst the self-serving, money-grubbing bastards. But maybe I'm watching this from a 2010 point of view rather than a 1940s.
Between Two Worlds Quotes
There are no approved quotes yet for this movie.