Normal
(2007)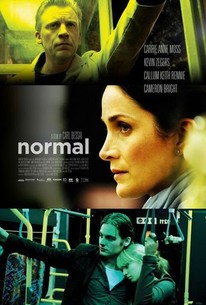 Movie Info
The massive fences designed to protect the unhappy suburbanites who populate a posh Vancouver neighborhood from the outside world don't prove nearly as effective as the psychological barricades they erect following a tragic accident in director Carl Bessai's simmering small town drama. After popular high-school student Nick is killed in a drunk driving accident, all those touched by the tragedy gradually find their lives beginning to unravel. Nick's grieving mother Catherine (Carrie-Anne Moss) simply locks herself away in her son's room and refuses to permit anyone else entry into her chamber of sorrow. For those directly involved in the accident, the pain is almost too great to bear as well. When Nick's best friend Jordie (Kevin Zegers) -- who was driving the car at the time of the accident -- returns home from juvenile detention, his overbearing stepmother clings to him with every ounce of her energy as his domineering father makes the boy a target for his unchecked rage. But Nick's friends and family aren't the only ones whose lives have been torn asunder by the accident, because as the other driver -- a failed writer named Walt (Callum Keith Rennie) -- gradually falls into an alcoholic haze, his already troubled marriage continues to disintegrate as he becomes unable to provide his autistic brother with the attention he so desperately needs.
Critic Reviews for Normal
Audience Reviews for Normal
CAST: Carrie-Anne Moss, Kevin Zegers, Callum Keith Rennie, Tygh Runyan, Andrew Airlie, Cameron Bright, Camille Sullivan DIRECTED BY: Carl Bessai SUMMARY: A deadly car accident brings together a group of previously unrelated people, each of whom is forced to deal with the emotional fallout. MY THOUGHTS: "The film was well acted by all, I especially liked Tygh Runyan in this film. His fear broke my heart. But what he in the end was very brave. I was annoyed with a couple characters, like the mother who lost the son and the step-mother. I get the mothers loss, but she was so into herself and her own grief that she didn't take any notice of her other son and his grief, she was just selfish. The step-mom is just disgusting, how she manipulated the father and sons relationship just because she was lonely. Found her to be quite pathetic. But in the end its a movie with a story-line that I have seen before. It's sad and really awful how it affects everyone. The tragedy links all these characters and the way they are coming to terms with how it affected them all. But it was good enough for a rent and I love Kevin Zegers. So it was worth the watch.. ; }
♥˩ƳИИ ƜѲѲƉƧ♥
Super Reviewer
One of the very reasons I like those under the radar telefilm canada flicks. More on this later. It's different, it's sad...and it's got a lesson in it...more or less. What the hell does normal mean anyways? See: Mersault...re: L'Etranger.
Bannan instant enigma- just add water
Super Reviewer
½
An interesting movie. I find it interesting how the various people who are only related through a fatal car accident deal with the death of the teenager. Almost everyone blames themselves, yet everyone's reactions are quite different. One thing that drove me nuts -- until 2/3's of the way through the movie I did not understand the connections between the players. It was almost enough to make me switch channels to an easier movie.
Normal Quotes
There are no approved quotes yet for this movie.