Scar
(2007)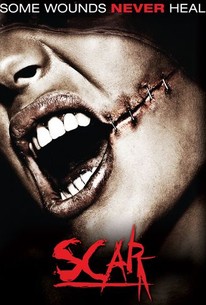 Movie Info
A young woman best remembered as the sole survivor of a small town killing spree returns to her hometown for her niece's high school graduation, only to find that the past isn't as dead as she thought in a psychological horror film directed by Jed Weintrob and starring Angela Bettis. It wasn't too long ago that the young girl managed to turn the tables on a notorious serial killer and emerge as the sole survivor of his murderous rampage, but the memories were too painful and she was forced to relocate soon thereafter. Though years may have passed since those traumatic events, it appears as if the horrors of the past have worked their way into the present when her return home coincides with a string of frighteningly familiar murders.
Audience Reviews for Scar
Standard horror about a woman who was tortured and saw her friend killed when she was a teenager and now, visiting family in the town where she grew up, has to confront what seems like a copycat killer. Scar, to its credit, does pretty much what you expect; simple story, few jumpy bits, quite a bit of gore(not bad gore either) and horror favourite Angela Bettis puts in a good performance, as do most of the cast to be fair. But Scar doesn't really do anything to lift it above average and the twist ending is pretty crap to. Plus I couldn't see how this would work in 3D aside from a couple of blood splatter scenes. Overall, I though Scars was ok. Not shit, not exactly good, it's just kinda there.
A rather unimpessive slasher/torture porn affair but I'm a fan of Christopher Titus and Angela Bettis so that helped me get through the weak plot and really lame motive of the killer. Overall not horrible especially if you can see it in 3D which helps a little too.
A.D. Villarreal
Super Reviewer
Uninventive, even Bettis' performance cannot save this film
Sylvester Kuo
Super Reviewer
Scar Quotes
There are no approved quotes yet for this movie.