Okuribito (Departures)
(2009)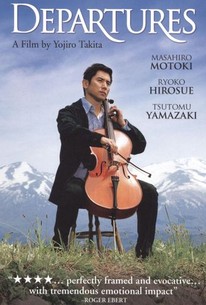 Okuribito (Departures) Photos
Movie Info
Director Yojiro Takita and writer Kundo Koyama examine the rituals surrounding death in Japan with this tale of an out-of-work cellist who accepts a job as a "Nokanashi" or "encoffineer" (the Japanese equivalent of an undertaker) in order to provide for himself and his young wife. Daigo Kobayashi (Masahiro Motoki) is a talented musician, but when his orchestra is abruptly disbanded, he suddenly finds himself without a source of steady income. Making the decision to move back to his small hometown, Daigo answers a classified ad for a company called "Departures," mistakenly assuming that he will be working for a travel agency. Upon discovering that he will actually be preparing the bodies of the recently deceased for their trip to the afterlife, Daigo accepts the position as gatekeeper between life and death and gradually gains a greater appreciation for life. But while Daigo's wife and friends universally despise his new line of work, he takes a great amount of pride in the fact that he is helping to ensure that the dead receive a proper send-off from this state of being.
News & Interviews for Okuribito (Departures)
Critic Reviews for Okuribito (Departures)
Audience Reviews for Okuribito (Departures)
A beautiful, sensitive and profoundly moving ode to the beauty of life and death, with a surprising sense of humor and a gorgeous score - the kind of film that touches deep inside our feelings like few others, making us appreciate and celebrate the wonder of being alive.
Carlos Magalhães
Super Reviewer
½
Beautiful, tightly-woven plot, powerful scenes that are keenly Japanese, by turns funny and tearful, and all the story nuggets are carried through and wrapped up in a satisfying manner. The filmmakers really explored the full dramatic potential of this unconventional line of work, exploiting its comical surprises and 'body humour' when Daigo is first initiated into his job, then gradually developing our understanding of the dignity and importance of the work, as well as capturing Japanese society's (through the lens of Daigo's wife and friend's) attitudes towards the dead as "unclean" or disreputable. The scenes where the protagonists works devotedly to win everyone over, and where he confronts his childhood demons, stand testament to the sublime elegance of this film. Highly recommended.
Letitia Lew
Super Reviewer
A musician/cultural sophisticate wannabe is shocked when hired to regularly participate in the traditional though frowned upon Japanese preparation for departure ceremony but slowly comes to find humanity in the highly orchestrated rituals of the process. A well done work and very engaging, altho often as obvious as all hell. I personally found the old timer's (Yamazaki) version of the process more poetic.
Kevin M. Williams
Super Reviewer
Okuribito (Departures) Quotes
| | |
| --- | --- |
| Mika Kobayashi: | So what is it? |
| Daigo Kobayashi: | Ceremonies. |
| Mika Kobayashi: | Like weddings? Maybe you can play cello for them. I'll get the sukiyaki ready. |
| | |
| --- | --- |
| Ikuei Sasaki: | That's a misprint. It's not departures, it's the departed. |
| Daigo Kobayashi: | The departed. |