The Missing Person
(2009)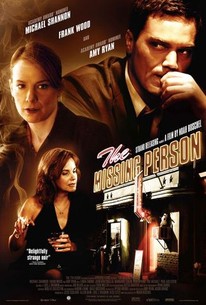 The Missing Person Photos
Movie Info
A sardonic, gin-soaked detective contends with an odd cast of characters while tailing a mysterious, middle-aged man traveling with a Mexican boy from Chicago to Los Angeles in writer/director Noah Buschel's twisting neo-noir mystery. John Rosow is a Chicago gumshoe whose skill for cracking a case often comes with a price; he has a penchant for getting in over his head, but he never loses his cool. Contacted by influential lawyer Drexler Hewitt and asked to shadow a man who is currently en route to Los Angeles with a young boy, Rosow collects his cash and instructions from Hewitt's gruff assistant, Miss Charley, and sets out on his latest assignment. Upon arriving in Santa Monica, however, Rosow is caught off guard when he learns that his objective has been updated. He is now to bring the man back to New York. For his efforts, Rosow will receive the tidy sum of half a million dollars. Later, as Rosow attempts to track down his target, a Segway-riding LAPD officer and a cab driver with extensive knowledge of the Catholic saints offer some helpful clues to the man's whereabouts as meddling FBI agents close in and a sensual femme fatale follows his every move. ~ Jason Buchanan, Rovi
News & Interviews for The Missing Person
Critic Reviews for The Missing Person
Audience Reviews for The Missing Person
Had the perfect elements of a noir classic until the end...which sucked so badly and made me feel so disappointed in giving this movie almost 2 hours of my life. Note to director: Never make bad ending to noir film...NEVER
Cast: Michael Shannon, Amy Ryan, Frank Wood, Linda Emond, Margaret Colin, John Ventimiglia, Yul Vazquez, Merritt Wever, Daniel Franzese, Liza Weil Director: Noah Buschel Summary: Hired to shadow a mysterious man leaving on a train from Chicago going to Los Angeles, heavy drinking private investigator John Rosow (Michael Shannon) discovers that the stranger is most definitely not who everyone thinks he is. With a large cash reward offered by the man's wife dangling before his eyes, Rosow tangles with his own demons as he decides whether to turn the guy in for the money. My Thoughts: "The film is one bizarre scene after another. If the film wasn't so slow and had more of an interesting story, I believe I would have liked it. But it was quite the sleeper for me and I lost interest pretty quick. But of course me being me, I finished the movie. The acting was great, it was just the story and the feel of the film. Guess it just wasn't my type of flick. I love Michael Shannon though. He does great with these odd characters."
♥˩ƳИИ ƜѲѲƉƧ♥
Super Reviewer
½
"The Missing Person" starts at 5:11 am in Chicago as John Rosow(Michael Shannon), a private investigator, is woken from his slumber with a phone call from Drexler Hewitt, a lawyer, to offer him a well-paying job. As Hewitt's assistant Charley(Amy Ryan) explains it, he needs Rosow to trail a middle-aged man(Frank Wood) on the California Zephyr to Los Angeles. Once on board, he spots his quarry with a hispanic boy. And once in Los Angeles, Rosow finds himself not alone in his pursuit, as he chats with a couple of FBI Agents(Liza Weil & Daniel Franzese) who give him a pair of sunglasses to blend in. "The Missing Person" is a moody and atmospheric neo-quasi-retro-semi noir with a droll sense of humor. Michael Shannon does well in hardboiled mode but we could have definitely seen more of Amy Ryan.(As with any movie of the last three years, for that matter.) Set in the present day, the movie does feel out of sync at times, as Rosow stands out in his suit and tie in a profession some see as outdated. That's not to mention his problem with working a cell phone that can take photos to which he is not alone. Even the train is a classic model.(Am I picky for pointing out that the California Zephyr goes to San Francisco, not Los Angeles? You're right, I probably am.) This only emphasizes the movie's theme of displacement, as the characters wish they were back in another time where everything made sense and they were happy. This is not really nostalgia, just wishful thinking in trying to recapture something that is lost forever.
The Missing Person Quotes
Discussion Forum
Discuss The Missing Person on our Movie forum!