Skin
(2009)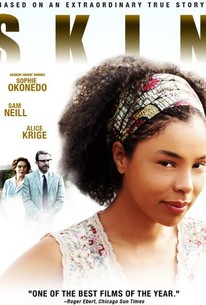 TOMATOMETER
AUDIENCE SCORE
Critic Consensus: Sophie Okonedo, Sam Neill, and Alice Krige do wonderful work in Skin, delivering performances whose strength is underlined by the incredible real-life events upon which the movie is based.
Movie Info
A dark-skinned girl born to white South African parents attempts to explore her identity in the era of apartheid as her government, her parents, and society as a whole struggle with what it means to be a black child of Caucasian descent in a nation deeply divided by race. The year is 1955. Sandra Laing (Sophie Okonedo) has just been born to a pair of white Afrikaner parents, her brown skin and curly hair the surprising result of genetic throwback. As the government's rigid apartheid system struggles with whether to classify Sandra as white or black, the young girl and her parents gradually realize that the complications they face due to her appearance run deep and wide. Sandra lives in a society where the color of your skin determines the outcome of your life, and though she is eventually granted admission to an all-white school, she suffers endless torment from her intolerant classmates. Her father, Abraham (Sam Neill), is having a particularly difficult time accepting his daughter. Despite the fact that tests indicate he is her biological father, the neighbors constantly whisper behind their backs. And while Sandra's mother (Alice Krige) does her best to provide her daughter with understanding and emotional support, those consolations come at a high price for both mother and daughter. Her parents believe it's their daughter's birthright that she live as a white woman, though only after she grows up and falls in love with a black man will the conflicted Sandra finally find the strength to embrace her true identity as an African woman. ~ Jason Buchanan, Rovi
News & Interviews for Skin
Audience Reviews for Skin
A true story converted to film usually is bastardised in the process, and while that is true here the strength of the story itself, about how we encourage racial distinctions and the price of that decision, carries this film throughout with a sense of childhood betrayed that stays long after the credits roll. The execution is flawed but the punch loses no power.
Kevin M. Williams
Super Reviewer
½
Based on a true story. This movie really makes one re-think what they "know", and "believe", about race. This lady's story is truly a sad, and unjust one, and prompted me to research apartheid era racial classification tests, and the life of Sandra Laing. This unusual case really highlights the effects of South Africa's racial classification system. Very interesting story with actual footage at the end of her, and her white family.
Cynthia S.
Super Reviewer
½
I usually approach docu-dramas cautiously - they can certainly be a mixed bag, where the story usually trumps any attempt at creating art; thankfully Skin, due to the very nature of its story, is so compelling that it transcends the genre. Telling the story of a 1960's South African girl, born to white Afrikaner parents, Skin shows us apartheid up close and personal, since Sandra, the young girl in question, appears to be "black". The story shows it all, how the government's rigid yet ridiculous determinations of race affect both sides of the equation, leaving Sandra an outcast in both worlds. The story focuses on Sandra as she grows up - from getting tossed from an all white (segregated due to Apartheid) school due to her appearance, to her late teen years as her white parents try to hook her up with suitable white suitors. Ultimately she falls for a black man who seems the only man who can make her smile. When her father finds out he has his own daughter arrested - since doing the horizontal with someone not of your race is considered a moral crime. What strikes you most, aside from the austere terrain, is how Sandra is a woman with one foot in each world, and yet an outcast in both. By law she cannot marry outside her race, so the children she produces with her black "husband" are considered an affirmation of her lawlessness, and is always aware that the government can step in at any moment and take her children from her. And yet she "looks black" so cannot find a good "white" job, or fit in with white society. The story is heartbreaking showing not only Sandra's strong character, but how a system can destroy - case in point is the destruction of Sandra's black shanty town; not only do the bulldozers level the place (so white folk can develop the area), but they also destroy the dreams and ultimately the soul of Sandra's man - as well as the formerly loving relationship they had together. There was no reason for any of this, and yet bigotry still runs rampant, each generation instilling the same fear and apprehension of things we find different from ourselves. I found the performances profound throughout, especially that of Sophie Okonedo as Sandra and Alice Krieg as her mother, caught in two hells - the one concerning the color of her daughter's skin and a second as a 1960's wife who must meekly obey her husband, though it breaks her heart to do so. A thought provoking film on so many levels - this should be required viewing for all early teens.
paul sandberg
Super Reviewer
Skin Quotes
There are no approved quotes yet for this movie.