Samson and Delilah
(2010)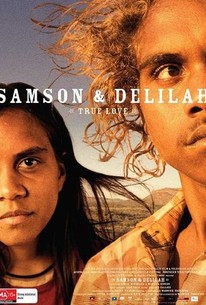 TOMATOMETER
AUDIENCE SCORE
Critic Consensus: Alternately beautiful and heartrending, Samson and Delilah is terrifically acted and shot, and presents a complex portrait of what it means to be Australian.
Samson and Delilah Photos
Movie Info
Two teenagers find love and look for a place where they can be together in peace in this comedy drama from Australia. Samson (Rowan McNamara) is 15 years old and lives in a shabby town in the outback, where he huffs gasoline to get high, hangs out with his friends, and spends his days goofing off and getting into minor trouble. One day, Samson meets Delilah (Marissa Gibson) at the village market, a girl who follows a different path in life -- she looks after her elderly grandmother (Mitjili Gibson), and helps her create paintings that they sell to tourists to support themselves. While Delilah doesn't have much to say to Samson at first, he's immediately taken with her and shows his affection with a graffiti painting. While she's not willing to admit it at first, Delilah has feelings for him as well, and when her grandmother encourages her to follow her heart, the two begin dating. But life is difficult on the outback, and when they both become victims of violence, Samson and Delilah hit the road and begin looking for a town where they can lead a better life. The first feature film from writer and director Warwick Thornton, Samson & Delilah was an official selection at the 2009 Cannes Film Festival, where it was screened as part of the "Un Certain Regard" program.
News & Interviews for Samson and Delilah
Critic Reviews for Samson and Delilah
Audience Reviews for Samson and Delilah
A beautiful and delicate portrait of a brutal reality that is so little known to non-Australians, reaching us through an Aboriginal love story that relies on two amazing performances and smoothly moving from tender to heartbreaking moments.
Carlos Magalhães
Super Reviewer
There is little for Samson(Rowan McNamara) to do during the day, except listen to his brother's band practice. One day, he catches sight of Delilah(Marissa Gibson) who spends her days working on native artwork with her grandmother(Mitjili Gibson) that they sell and taking her to the local clinic for regular visits. She takes pity on him and buys him a snack at the store. In return, he kills a kangaroo and brings it back to her place to eat for dinner.(Oh, but it's so cute!) He then brings his bedroll over to stay. All of which the old woman finds amusing. Even with mild reservations about the ending, "Samson and Delilah" is a well-filmed and heartbreaking love story that also has much to say about the tragic state of the Aboriginal population in Australia, living lives of frustration with little opportunity at a better life.(To make matters worse, the only radio station they can get in their outback village is country western.) Thankfully, none of this is presented in a strident manner, as the arguments are presented subtly with little dialogue, almost as if their language, along with their culture, had been appropriated by the Europeans which finds them largely invisible.
½
Warwick Thornton's astounding, gruelling and rewarding movie - which he shot, as well as wrote and directed - puts us in the place of Australia's most dispossessed and forgotten people. Samson and Delilah is hard viewing and unsparing almost to the last. Even then the redemption it offers is perhaps ephemeral. But this wrenching film is also a tender, realistic love story and a lyrical piece of visual art. It unfolds mostly without dialogue, depending on the remarkable natural expressiveness of its untrained leads Rowan McNamara and Marissa Gibson, whose relationship play out as childish love-hate flirtation before they cling together in desperation and finally sink into the miasma of fumes that seems to offer escape from violence, homelessness and the sheer loneliness of being two lost kids on the face of a parched, uncaring planet.
Dean McKenna
Super Reviewer
Samson and Delilah Quotes
There are no approved quotes yet for this movie.