Autopsy (Macchie solari)
(1977)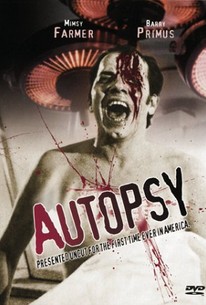 AUDIENCE SCORE
Critic Consensus: No consensus yet.
Movie Info
Simona Sana (Mimsy Farmer) is a young pathologist who works in a morgue in Rome, Italy. A wave of violent suicides are attributed to a summer heat wave. Driven to exhaustion from the intense heat and the long hours worked, Simona struggles to complete her college theses about natural deaths when one suicide victim is brought in the morgue. A young Catholic priest named Paul Lenox (Barry Primus) identifies the corpse as his sister and claims that she did not commit suicide, but was murdered and set up to look like a suicide. Simona teams up with Father Lenox to solve the mystery and stay one step ahead of a mysterious killer who now begins to stalk her when Simona gets a little too close to the truth of the suicides.
Critic Reviews for Autopsy (Macchie solari)
Audience Reviews for Autopsy (Macchie solari)
Autopsy is yet another good Gallo film in the genre. The film is a different type of Giallo compared to the works of Dario Argento, Lucio Fulci and Sergio Martino to name a few, but Autopsy still manages to keep all the key necessary elements to make it a watchable Giallo film. Though not excellent, Autopsy is still a must see film for fans of the genre. This film is quite obscured and forgotten because there has been far superior films in the genre. For what it is, Autopsy will satisfy fans of the genre with a unique twist of the traditional Giallo films. The cast is decent at best, and the plot is intriguing . I found that Autopsy though not perfect was still a good enough addition to the genre. The film boasts an interesting idea for its plot. Despite the fact that it's different from other Giallo films, Autopsy still has all the traditional ingredients that make an effective film. Armando Crispino direction is good, but where this film lacks is in the characters, I felt that they were a bit bland, and unlike many other Giallo films, they weren't too interesting. The biggest problem with the film is that it differs from other films of the genre by creating a totally different, but it doesn't do anything too remarkable with its original idea. Still, for what it is; Autopsy is worth watching if you're a fan of the genre. The standout of the film is Ennio Morricone's score. This is an interesting Giallo and is a memorable one at that, but compared to others in the genre, it's far from a classic. Despite this, Autopsy is entertaining and if you love the genre, you'll like this one.
Autopsy (Macchie solari) Quotes
There are no approved quotes yet for this movie.