Badlands
(1974)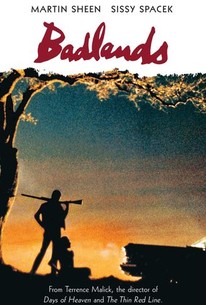 TOMATOMETER
AUDIENCE SCORE
Critic Consensus: Terrence Malick's debut is a masterful slice of American cinema, rife with the visual poetry and measured performances that would characterize his work.
Movie Info
"He wanted to die with me and I dreamed of being lost forever in his arms." A young couple goes on a Midwest crime spree in Terrence Malick's hypnotically assured debut feature, based on the 1950s Starkweather-Fugate murders. Fancying himself a rebel like James Dean, twentysomething Kit (Martin Sheen) takes off with teen baton-twirler Holly (Sissy Spacek) after shooting her father (Warren Oates) when he tries to split the pair up. Once bounty hunters discover their riverside hiding place, Kit and Holly head toward Saskatchewan, leaving dead bodies in their wake. As the law closes in, however, Holly gives herself up -- but Kit doesn't hold it against her, as he basks in his new status as a momentary folk hero. Inaugurating the use of voice-over narration that he would continue in Days of Heaven (1978) and The Thin Red Line (1998), Malick juxtaposes Holly's flat readings of her flowery romance-novel diary prose with the banal and surreal details of their journey. Singularly inarticulate with each other, Kit and Holly are more intrigued by mythic celebrity gestures, as Holly peruses her fan magazines and Kit commemorates key moments before orchestrating a properly dramatic capture for himself (complete with the right hat). The sublime visuals lend a dreamlike beauty to the couple's trip even as their actions are treated casually; Malick neither glamorizes Kit and Holly nor consigns them to the bloody end of their fame-fixated predecessors in Bonnie and Clyde (1967). With the couple's opaque dialogue and Holly's fanzine dream narration, Malick further denies an easy explanation for their crimes. Made for under 500,000 dollars, Badlands debuted at the 1973 New York Film Festival, along with Martin Scorsese's Mean Streets, and was released within months of two other outlaw-couple road movies, Steven Spielberg's The Sugarland Express and Robert Altman's Thieves Like Us. Although Badlands did not make an impression at the box office, its pictorial splendor and cool yet disquieting narrative established Malick as one of the most compelling artists to come out of early-'70s Hollywood. ~ Lucia Bozzola, Rovi
News & Interviews for Badlands
Critic Reviews for Badlands
Audience Reviews for Badlands
In today's society, the reality of the mainstream invading the private lives of many is a common occurrence. Even all the way back in 1973 it was apparent that the romanticizing of murderers was a glorifying tactic that led to more violence. We now have public murder trials, allover coverage, and constant media attention to people who should be shrouded in mystery, and shunned to the darkness from where they came. Terrence Malick, inspired by the murder spree of Charles Starkweather and his girlfriend in the fifties, tells the story of Kit and Holly, who rampage across the country in their own version of Romeo and Juliet. Very young, and manipulative, Kit (Sheen) controls Holly (Spacek) with his charisma and promises of love eternal. Though Holly has a lot of agency, and even seems disaffected by the entire ordeal, it is obvious that she is a simple pawn in Kit's ambiguously feral game against "the man." The voiceover from Holly gives a whimsical feel to the events, while also drawing into perspective the violence of their romance. The entire film feels adventurous and yet horrific, violent and yet humorous. A very prescient look into the future, as well as being an exercise in telling a simple story with waylaid characters, "Badlands" is beyond captivating.
Spencer S.
Super Reviewer
The brilliant debut of Terence Malick is measured like a beautiful poem and chock full of sumptuous visuals. 'Badlands' is an impressionistic dream of a film.
Kase Vollebregt
Super Reviewer
½
Terrence Malick's stunning debut feature Badlands ranks among his finest works. Featuring brilliant performances by Martin Sheen and Sissy Spacek, who have great chemistry on camera, Badlands is a violent tale that manages to be toned down by an easy atmosphere that is one of Malick's signatures, by telling a story with a simple, yet friendly narrative provided by Spacek. Badlands is a tense picture that is quite riveting from start to finish, and Malick captures every tense, thrilling and unforgettable scene through his camera, and pains a graphic, atmospheric portrait of two psychos on a killing spree. Now I must admit, I never was a diehard fan of Malick's work because he tends to make movies that are for a specific audience and they tend to be a tad slow in the way the story unfolds, but visually they've always been stunning, and his style was unique. However I found that most of films were far too ambitious and lacked any memorable story. I'm not saying that I think Malick is a bad filmmaker, quite on the contrary, but I'm simply saying that his work is not for everyone and for me, I've found it hard to find one of his films to really grab my attention. However that's not the case with Badlands, and this is the second feature of Malick's that I've enjoyed, the first being The New World. Badlands is really the easiest film of his to get into, and if you're not into artful pictures, the type of cinema that Terrence Malick is so keen on tackling, then this film is the perfect place to start. The tone of the film is somewhat cheerful, but it works as a way to hide the true nature of the plot, which is absolutely genius in the way that Malick does it. While maintaining of somewhat innocent narrative throughout, Malick is able to grab your attention and you hooked through the two lead characters journey into chaos as they go into their killing spree. Badlands is a great film, and some viewers may disagree but I personally feel that it's Terrence Malick's masterpiece.
Badlands Quotes
There are no approved quotes yet for this movie.