Broken Arrow
(1950)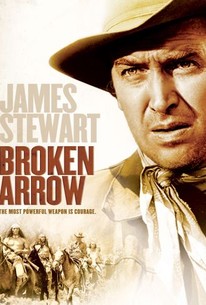 Movie Info
Indian scout Tom Jeffords (James Stewart) is sent out to stem the war between the Whites and Apaches in the late 1870s. He learns (through an uncomfortably close encounter) that the Indians kill only to protect themselves, or out of retaliation for white atrocities. Befriending the sagacious Apache leader Cochise (Jeff Chandler), Jeffords ensures safe passage for white mail-carriers through Indian territory. As he becomes closer to his Native American "brothers", Jeffords falls in love with and weds a pretty Apache girl (Debra Paget). This being a 1950 film (miscegenation was frowned upon by the Production Code), you can guess what happens to her. Jeffords wants to avenge his bride's death at the hands of white renegades, but it is the so-called "savage" Cochise who advises him not to. Having learned much from each other, Jeffords and Cochise symbolize the white/Indian detente with the traditional broken arrow. This superb, non-condescending film has been criticized in some circles because of the alleged depiction of Cochise as an Indian "Uncle Tom", and because actor Jeff Chandler was not a genuine Native American. Nonetheless, Broken Arrow stands the test of time far more successfully than the later, politically correct Dances with Wolves. In 1956, Broken Arrow was adapted into a TV series starring John Lupton as Jeffords and Michael Ansara as Cochise.
Critic Reviews for Broken Arrow
Audience Reviews for Broken Arrow
½
A very underrated film, Broken Arrow deftly and handily tells a great story. Jeff Chandler turns in an excellent performance as miscast Cochise, playing the Apache leader with an admirable diligence and respect. James Stewart's turn as Tom Jeffords is surprisingly understated and memorable, not just in the usual likable Jimmy Stewart kind of way. I also love the briskness of the editing and overall direction.
Paris Smith
Super Reviewer
James Stewart is cool in this movie trying to get the Europeans and Native Americans to get along. Both he and the audience learn a lot. Of course this isn't the best western, but I liked it.
I actually really like this and think it has a very nice message and sense of direction. James Stewart fits well into the earnest cowboy role, essentially becoming the peacemaker of Arizona. While some of the Indians don't come across as authentic looking, it doesn't really matter. I'd rather watch Jeff Chandler as Cochise than a real Native American who can't act. This is a very different type of Western and one that has a very unique quality to it.
Conner Rainwater
Super Reviewer
Broken Arrow Quotes
| | |
| --- | --- |
| Tom Jeffords: | "My mother is crying he said. Funny it never struck me that an Apache woman would cry over her son like any other woman. Apaches were wild animals we all said." |
| Tom Jeffords: | My mother is crying he said. Funny it never struck me that an Apache woman would cry over her son like any other woman. Apaches were wild animals we all said. |