Captain Blood
(1935)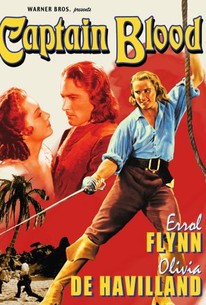 Movie Info
This film is set during the oppressive reign of King James II. Irish physician Peter Blood is condemned to slavery in Jamaica. Here he earns privileges after treating the governor for gout; this does not rest well with the owner of the plantation on which Blood is forced to work.
News & Interviews for Captain Blood
Critic Reviews for Captain Blood
Audience Reviews for Captain Blood
½
'Jack Sparrow' you say?? Errol's first big role and a darn good one at that. Looking dashing, your typical cutlass wielding buccaneer, along with the gorgeous Havilland (at her sexiest) and good old Basil Rathbone, 'Blood' is a rousing adventure with dueling, romance and some pretty excellent looking galleon battles too. The costumes and effects are tremendous for such an old film, it looks really authentic, the dialog is brilliant with the olde English terms and phrases, all of this really gets you into the pirate mood perfectly me hearties. The first pairing of Havilland and Flynn began a dream team that lasted for many films, all classic, and again in this you can see why. Both look good together and they were always cast in roles that just suited them (period of course) Havilland was always better at the acting side if you ask me, Flynn was kinda wooden really but he was a mans man. Top film in all areas and with a sword fight between Rathbone and Flynn that matches the 'Robin Hood' one for moves, looks and excitement. If only they made films now like this one.
Phil Hubbs
Super Reviewer
If you love pirate movies and the stars of the 30s, you'll enjoy this movie. It has a lot of good actors, it's exciting, and hey it's a pirate movie! How could you not like this movie? Sure, it's not too spectacular, but it's got it's charm. I enjoyed it.
Captain Blood marks the star-creating, breakthrough performances of both Errol Flynn and Olivia de Havilland. It's also one of the great epics of early Hollywood. Flynn stars as Doctor Peter Blood, a man who finds himself in prison after treating a wounded man who was injured fighting in rebellion against the king. Though Blood himself was not apart of the rebellion, he's sentenced to death for treason. At the last moment, the king issues a decree that all condemned men (remaing alive) are sentenced to slavery in the island colonies. Here, he's purchased by Arabella Bishop (de Havilland), on a whim that he's so much more sophisticated than the other slaves, but Blood wants no part in being her "toy", and is sent to work among the other slaves doing hard labor. When it's discovered he's actually a very competent doctor, he's sent to treat the governor's game foot and becomes a sort of in-house doctor for the ailing old man. Blood concocts a scheme for escape which is aided greatly by the timely attack of spanish pirates upon the port. With the aid of several fellow slaves, Blood takes over a spanish ship and soon sets off for the high seas to live the life of a pirate. There are so many things that go into making this a great picture, most obviously, Flynn's performance as Captain Blood. Direction and story are also simple yet eloquent. Action/adventure blockbusters are nothing new, and while modern times have shown improvements in special effects and sound editing, there's nothing that can take the place of good old fashioned human effort. For pirate adventure, I daresay Captain Blood is better than Pirates of the Carribean any day. According to my favorite reliable source, wikipedia, swash "is the water that washes up on shore after an incoming wave has broken". I'm not sure how you buckle water the washes up on shore after an incoming wave has broken, but I can assure you Errol Flynn has buckled it.
Devon Bott
Super Reviewer
Captain Blood Quotes
There are no approved quotes yet for this movie.