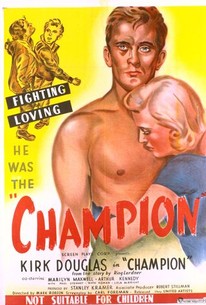 Champion
1949, Drama/Romance, 1h 39m
16 Reviews
500+ Ratings
Where to watch
Rent/buy
Rent/buy
Rent/buy
Rate And Review
Movie Info
Scrappy Michael "Midge" Kelly (Kirk Douglas), on the run from a shotgun marriage and needing to help support his handicapped brother, Connie (Arthur Kennedy), angles his way into a short-term job as a boxer. His life of hard knocks has given Midge a fiery temper and a will to win that quickly makes him one of the most popular fighters on the circuit. But when he gets instructed to take a dive in a championship bout, his bosses learn that no one tells Midge Kelly what to do.
Audience Reviews for Champion
"Champion" might seem like a another predictable drama at first glance, but it's more thoughtful and darker than you'd expect, and its ending is surprisingly pessimistic. Kirk Douglas gives an imperfect but rousing performance that goes well with a respectable supporting cast, which is headed by the likes of Arthur Kennedy and Paul Stewart. "Champion" is a drama crafted by capable hands, and it's pretty well-made, too.

A taut and atmospheric classic that has long been considered one of the best boxing films ever made. It is a stark and gripping character study that concerns the rise and fall of a unscrupulous boxing champion Midge Kelly, played brilliantly by Kirk Douglas in his breakout Oscar nominated star-making performance, who began as a know-nothing beginner, but because of his underprivileged life as a youth, which has given him a persecution complex, that drives his relentless ambition, it soon makes him into a natural and fearsome boxer, who rockets to the top of his sport, to become the middleweight champion of the world, but fame and wealth quickly seduce what was already a man with serious issues to began with, he alienates and thrusts aside everyone around him, including his beloved crippled brother Connie, played impressively by Arthur Kennedy in a Oscar nominated turn and the three women in his life that he uses, than discards, wonderful played by Lola Albright, Marilyn Stewart, and Ruth Roman. His quiet, knowing manager Tommy Haley, very aptly played by Paul Stewart who helped build him up into a world class fighter, he also betrays. Kelly is such a cruel, selfish, contemptible and self-destructive bastard, that the dark and tragic ending will surprise no one, but the engrossing Oscar nominated screenplay and Douglas's powerful virtuoso performance will keep your eyes glued to the screen all the way until it reaches that end. Astute direction by Mark Robson, sharp Oscar winning editing by Harry W. Gestad, with sensational black & white cinematography by Franz Planer, which makes spectacular use of light and shadow, excellent fight scenes that are very well-staged, and realistically brutal. An outstanding melodrama which earned 6 Academy Awards including Best Actor: Kirk Douglas, Best Supporting Actor: Arthur Kennedy, Best Adapted Screenplay: Carl Foreman, Best Score: Dimitri Tiomkin, Best Editing: Harry W. Gestad. Highly Recommended.

Pretty much like watching "Body And Soul". Kirk Douglas is as good as Robert DeNiro was in "Raging Bull". This movie is no different from "Body And Soul". Corruption in the boxing biz, fast women, fast money, a shot at the title with consequences, shady managers, oh yeah can't forget a special love interest.

The best boxing movie you've never heard of. Kirk Douglas is under the radar but at the top of his game.
See Details