Dr. Jekyll and Mr. Hyde
(1920)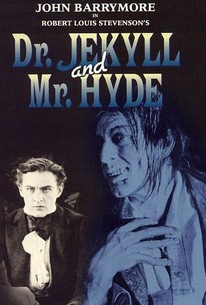 Dr. Jekyll and Mr. Hyde Photos
Movie Info
In 1920, filmgoers were treated to no fewer than two different film versions of Robert Louis Stevenson's Dr. Jekyll and Mr. Hyde. In this one, John Barrymore plays the humanitarian Dr. Henry Jekyll, who becomes obsessed with the notion of separating the good and evil impulses within every man. To this end, he develops a potion which unleashes his own darker side: the demonic Mr. Hyde. This was the adaptation which established the cliché of having both a "good" and "bad" leading lady, to parallel the doppelganger aspects of the Jekyll/Hyde personality. Martha Mansfield is the good girl, while Nita Naldi, wearing costumes that were daring indeed in 1920, is the bad one. The adaptors also borrowed the character of Lord Henry from Oscar Wilde's The Picture of Dorian Gray in order to provide Jekyll with an evil mentor/blackmailer. Sadly, Dr. Jekyll and Mr. Hyde proved to be one of the last starring films for leading lady Martha Mansfield: she died horribly during filming of The Warrens of Virginia (1924) when her costume touched a discarded match and burst into flame.
Critic Reviews for Dr. Jekyll and Mr. Hyde
Audience Reviews for Dr. Jekyll and Mr. Hyde
John Barrymore stars as the good scientist who develops a potion that unlocks his wicked side in this silent adaptation of the Robert Louis Stevenson classic. As usual, Jekyll is a bore and Hyde is a blast---here, he looks like a hairy skeleton with a pin-head---and the scenes of Victorian depravity, with Hyde visiting prostitutes and opium dens and abusing the lost souls there for his amusement, are solid pre-Code fun. Holds its own against the talkie versions.
Not the first version and not the best either, if you know the story it's predictable and boring. The characters aren't very interesting, the main actor, Barrymore, is pretty good, but other than that, I didn't care for this version.
½
silent "dr. jekyll and mr. hyde" is the classic fable upon the irreconcible duality inside humanity, compounded by good and evil, a slight horror showcase for john barrymore to flaunt his daring trial of self-disfiguration, an applaud for the cosmetic department. the only way to cope with our base nature, which is symbolized as left hand, is to yield to it but concession to evil would mar the immortal purity of soul. so how should we balance it on a even scale without damaging the harmonious perfection? thus virtuously saint-alike scientist dr. jekyll chooses to discriminate his darker self into another monstrous being_mr. hyde. this marvellous transformation is made possible thru his invention of magic potion. there're various metaphors behind this legendary fable about the schizopreniac reality of human nature, the greater repression of morality causes greater frightful seed of evil, also a tale with a doctrine to condemn human's god-trespassing pride by re-incarnating oneself thru the scientic human endevor, "a sacrilege to both god and devil".... john barrymore's impersonation upon mr. hyde is ground-smashing, considering the phenomenon of cinematic art then, and barrymore had to compulse himself into a certain type of histrionic dramaticity to impress the audience with fierce exaggerations of movements and facial expressions. the seedy mr. hyde resembles the wretched elder witch in midieval dark age, especially when hyde in spider suit creepily crawls over jekyll on bed. that sort of bizarrely expressive method could only exist in the silent age. as for the cameo of silent vamp actress nita naldi who has the oriental looks of geisha, she emanates enough sensuality with her full-cup bosom, her radiant ebony hair, and also her characteristic gothic features. she's one of the archetyped beauties in the 20s, the vamp type, with all her smoldering exotica and her voluptuous tigress allure, she's almost as oriental as any other authentic oriental beauty, but magnified with her fearless earthy lasciviousness.
Veronique Kwak
Super Reviewer
Dr. Jekyll and Mr. Hyde Quotes
There are no approved quotes yet for this movie.