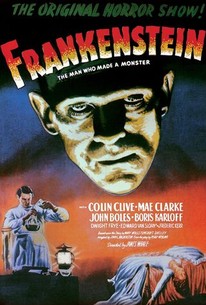 Frankenstein
1931, Horror, 1h 11m
94 Reviews
5,000+ Ratings
What to know
critics consensus
Still unnerving to this day, Frankenstein adroitly explores the fine line between genius and madness, and features Boris Karloff's legendary, frightening performance as the monster. Read critic reviews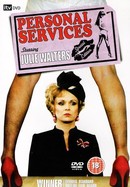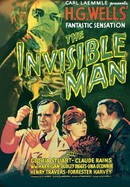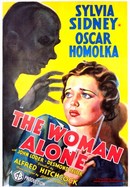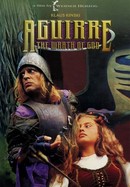 Aguirre: The Wrath of God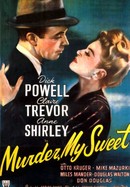 Where to watch
Rent/buy
Rent/buy
Rent/buy
Rate And Review
Movie Info
This iconic horror film follows the obsessed scientist Dr. Henry Frankenstein as he attempts to create life by assembling a creature from body parts of the deceased. Aided by his loyal misshapen assistant, Fritz, Frankenstein succeeds in animating his monster, but it escapes into the countryside and begins to wreak havoc. Frankenstein searches for the elusive being and eventually must confront his tormented creation.
News & Interviews for Frankenstein
Audience Reviews for Frankenstein
Not a totally faithful adaptation of the Mary Shelley book, still extremely important for not just horror movies, but movies as a whole. I thought about coming at this review from the perspective of what 1931's Frankenstein meant for the future of cinema, and how it was still essentially in its infancy and doing anything even close to what Frankenstein did, changing the culture forever and remaining in the zeitgeist even now, almost a hundred years later, is a monumental achievement and should be viewed as such. But that's never really been my jam. Frankenstein might have been great for the time, I don't know, I wasn't there, but I personally only ever found it to be okay. Re-watching it this Halloween was, I think the fourth time I've given it a go, and it's really not as enthralling as people seem to give it credit for. My roommate fell asleep. It's not that it's black and white either, it just doesn't have as clear a philosophical intention as the book, nor as gripping an output as more modern offerings.

This classic has its place in film history, but both times I've watched it (separated by many years), I've struggled to stay interested. There are a couple of iconic moments, including the fast cut to tight shots on Boris Karloff as we first see Frankenstein's monster. However, after some great initial scenes in the graveyard, the direction by James Whale often takes us away from scenes of interest or tension, and doesn't delve deeply enough into the darkness of 'playing god'. Instead we get silliness, such as the assistant getting the jar marked 'Abnormal Brain'. This one hasn't aged well, and I would 1932's 'Dr. Jekyll and Mr. Hyde' instead.

Still unnervingly scary after more than 80 years, James Whale's atmospheric macabre masterpiece maintains its vaulted place as the definitive Gothic horror film. As sloppy as Tod Browning's production of Dracula sometimes feels, this creature feature shows off a meticulousness in design and preciseness in tone and awareness in feeling. Every choice - from Franz Waxman's hypnotic score to Jack Pierce's iconic make-up design to Boris Karloff's sympathetic performance - helps to build the perfect beast. Also, whereas the ultimate vampire story (which was filmed the same year) didn't play with the author's underlying themes much, Frankenstein consistently dances with the theological and scientific concerns inherent in the source material, all with a sometimes gentle nuanced touch. Dirt literally gets tossed in the face of death. The maker compares himself to God. The 'son' of the creator gets crucified. This last measure, of course, wasn't taken directly from Mary Shelly's tome, but provided an appropriate coda to this brisk thriller. As the superior sequel makes clear, however, he wouldn't stay dead for long because Whale wasn't finished spinning his remarkable monster tale. In this unrated horror classic, obsessed scientist Dr. Henry Frankenstein (Colin Clive) inadvertently creates a monster (Boris Karloff) when he plays God by animating body parts from dead people. Expressionistic without being a piece of Expressionism, Whale's shadowy stony world defies period and place but becomes an unforgettable setting all of its own. A manic tour-de-force, Colin Clive falls seamlessly into this dark tapestry, as does the gleefully oddball Dwight Frye as Fritz the hunchback. Without Boris Karloffs instantly iconic turn, however, the project would have sunk faster than little ill-fated Maria in the lake. Bottom line: Hails from the Crypt

A timeless classic, perhaps the most notable and influential of the Universal monsters, and even if more amusing than terrifying for today's standards, it remains a striking experience, with stunning visuals that owe their inspiration to German Expressionism.
See Details