100 Girls
(2000)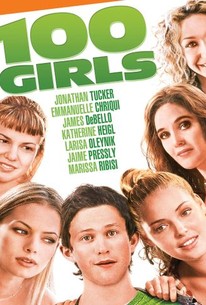 Movie Info
A young man is looking for the woman he loves, though he wouldn't know her if he saw her in this teen-oriented comedy. Matthew (Jonathan Tucker) is a college freshman who has not been having much luck with the ladies since he started school. One night, Matthew is taking an elevator downstairs at his dorm when someone dashes in just as the door is closing. Moments later, there's a power outage, and Matthew and his fellow passenger are stuck. He soon discovers that he's stranded on the elevator with a woman, and they strike up a conversation; one thing leads to another, and they end up making love. However, Matthew never gets her name or a good look at her face in the darkness, and the next morning, he awakes to discover the power is back on, and the young woman is gone. Matthew is desperate to find her, certain that she is the love of his life, but all he knows for sure is that she lives in a nearby all-girls dorm -- and that she left behind a pair of panties. Posing as a maintenance man, Matthew sets out to visit every girl in the dorm, hoping to find the girl who matches up to the lingerie. Among the many women Matthew runs across in search of his dream girl in 100 Girls are Larisa Oleynik, Jaime Pressly, Katherine Heigl, Marissa Ribisi, and Emmanuelle Chriqui.
Critic Reviews for 100 Girls
Audience Reviews for 100 Girls
½
Actually not terrible by the end. This early aughts horndog comedy starts with some terrible and trite stereotypes about college guys, college girls, and what they'd do for bad college sex - all layered with an incessantly monologuing leading doofus. Matthew, the doofus character starts arcing half an hour in though, and his hopelessly romantic quest for finding The One becomes more complex and endearing as he starts earnestly exploring the tensions between the sexes instead of just subscribing to his dude-brah roommate's defense mechanism of misogyny or letting his misguided Women's Studies professor blame men for all manners of perceived patriarchal sins. The movie still pats its male writer and character on the back for playing the hero against sexual assault and for being the first to speak of gender equality and understanding (in fair albeit elementary terms). Even though Matthew's climactic speech is very sweet (filled with both stereotypical yet comforting gender cues and genuine promises about commitment and respect), traditional gender roles are still in place: the dude makes a sweeping declaration of love, and the gaggle of girls swoons. The supporting cast of ladies starts off without personality or each with only one, odd defining quirk, but the characters played by Larisa Oleynik, Katherine Heigl, Jaime Pressly, Marissa Ribisi, and a [Ben Wa] ballsy and sensual Emmanuelle Chriqui (whom I thought was a young contemporary of Nina Dobrev's but actually isn't), eventually round out the varying levels of estrogen.
Alice Shen
Super Reviewer
Most people have seen this because of Katherine Heigl, but believe you me, it's nothing to wave your flag at.
Spencer S.
Super Reviewer
½
Flat, one dimensional characters throughout. This includes the main character who just gets on your nerves talking and talking endlessly about why men and women are different, and then later about how they belong together. The writer-director seems to think all this talk passes for wisdom about the millennial old arguments between the sexes. Throwing nearly every stereotypical chauvinistic assumption from both sides of the gender divide into the script does not lead to any answers. There are plot holes and ridiculous situations to fill the rest of the run time in this supposed sex farce.
Byron Brubaker
Super Reviewer
100 Girls Quotes
There are no approved quotes yet for this movie.