It's Alive
(1973)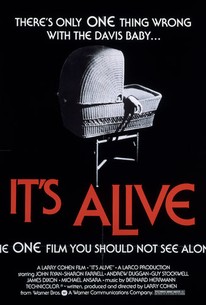 Movie Info
Larry Cohen's disturbing little potboiler is mixed with measures of The Exorcist and Rosemary's Baby and features a chilling Bernard Herrmann score. The story concerns a monstrous fetus in the womb of Lenore Davies (Sharon Farrell). Sharon and her husband Frank (John Ryan) excitedly arrive at the maternity ward, eagerly awaiting the delivery of their newborn baby. But the birth results in a murder spree, as Lenore gives birth to a freakish and belligerent monster that kills a collection of hospital workers before it runs off into the night. The parents have to deal with the horror they have unleashed. Lenore wants to care for the baby, while Frank wants to hunt it down and kill it. The L.A.P.D. is finally called in to dispatch the little monster, seemingly unstoppable in its carnage. Frank obligingly offers to help the cops with their baby-hunt. But as the law begins to close in, Frank's paternal feelings for his only child begin to take over.
Critic Reviews for It's Alive
Audience Reviews for It's Alive
½
Whatever you were expecting from this maudlin horror schlock, it doesn't pack much fear into its runtime. Instead the film quickly devolves into a manhunt for the tiny deformed infant. Instead of being framed as a creature feature, it's a film about a runaway baby out to kill all those that get between it and its family. It's hard to believe that anyone would instantaneously believe in the mutated killer baby angle, but they do. Suspense of disbelief is always needed when watching this film. Otherwise, the baby itself isn't even that horrific. Yes, the amazing Rick Baker did the makeup, and the animatronics, but the baby is always half-hidden in shadow. The deaths aren't that authentic or original, the acting is bland, and the set-up is wanting. While the concept may have been unique, and its most infamous scene is worth watching, this is an otherwise run of the mill creature film.
Spencer S.
Super Reviewer
A mother gives birth to a violent mutant baby that goes on a rampage. It's a little silly but watchable comic horror. Most of the kills take place off camera annoyingly leaving you with just the bloody aftermath, but there's brief glimpses of gore now and then. I was also impressed with John P. Ryans performance as the father of the bloodthirsty mutant baby. Didn't like the film as much as I thought I would... dare I check out the remake?
½
This movie is like a sequel to Rosemary's Baby combined with a bio-hazard type movie. I'm not sure whether or not it was a good idea, but it is creepy, and a pretty good horror movie, but it could be better.
It's Alive Quotes
There are no approved quotes yet for this movie.