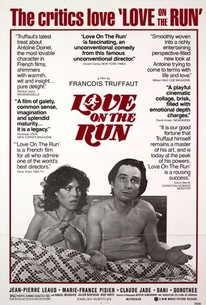 Love on the Run
1979, Romance/Comedy, 1h 33m
12 Reviews
2,500+ Ratings
Rate And Review
Movie Info
Beginning with "The 400 Blows," director Francois Truffaut made a series of films about the impetuous Antoine Doinel (Jean-Pierre Léaud), in which this is the last. Antoine is now 30, working as a proofreader and getting divorced from his his wife (Claude Jade). It being the first "no-fault" divorce in France, a media circus erupts, dredging up Antoine's past. Indecisive about his new love with a store clerk (Dorothée), he impulsively takes off with an old flame (Marie-France Pisier).
Rating: PG

Genre: Romance, Comedy

Original Language: French (France)

Director: François Truffaut

Producer: François Truffaut

Release Date (Theaters): wide

Release Date (Streaming):

Runtime:

Distributor: Criterion Collection, Fox Lorber, New World Pictures

Sound Mix: Mono
Audience Reviews for Love on the Run
We do have a serious issue when approximately 35% of the film consists in featuring full scenes of four past films made by the same director, which means that this movie has less than an hour of story to offer. We have an even more serious issue when that <1 hour of running time has nothing of significant value to offer rather than rely on its overwhelming nostalgia. So, do I recommend it? Actually, yes, and a lot. Truffaut fans and the followers of the Antoine Doinel series should definitely catch this one to give all the events a psychological closure. The entire original cast is here, even those characters you had never imagined to see again. In my past reviews I did mention that there was a theory circulating suggesting that as long as the Doinel films kept progressing, the central character was getting closer to a real-life version of Doinel and farther from Truffaut himself. That is an interesting aspect because, indeed, Truffaut had a more aggressive tone in his depiction of the tough challenges of the childhood stage of a person, and a more colorful and anarchic tone each time more, which kept progressing into straightforward (although very creative) comedy. This is not the case. This is the odd man out. Why? Because the film's existence depends entirely on 5 past projects, whereas each previous Antoine Doinel film used its predecessors as easter eggs and complements of the characters. However, each film could have had an independent existence from each other given how good they were, in case they hadn't been planned as a series. So this is a very prolonged fan-made YouTube video directed by Truffaut himself and released by Criterion which becomes a delight to the viewer because it is a full wave of nostalgia, as we see a recollection of the characters growing up and facing new commitments, and how broken relationships had their repercussions in the present day. This comes with the bonus of admiring the filmography of a French New Wave master that kept experimenting and finding new voices of cinematic styles. Too bad that the film ends with a nasty tone that pretended to be funny, like if our faults were irremediable, and it cannot stand on its own. So it is recommended for the sake of memories and benign melancholy, but <i>Love on the Run</i> itself is empty. I do appreciate, however, every scene featuring Colette, that interesting woman we first met in 1962. She made it all worth it. 66/100

I dislike when sitcoms do "clip shows" too.

Being the last film about Antoine Doinel´s life and knowing that Truffaut didn´t like it, some choices are understandable, but it is the less interesting of the series. The flashbacks are enjoyable, specially if you saw all the fims; they bring kind a feeling of nostalgia and the happenings between them add a bit. <br> <br>

The finale of the Antoine Doinel series is easily the weakest, using a whole lot of clips from earlier movies, but if you've followed it this far, you'll want to see how his life turned out.
See Details