The Producers
(1968)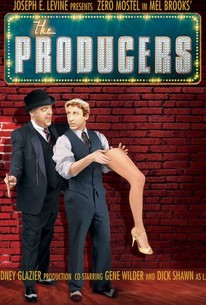 TOMATOMETER
AUDIENCE SCORE
Critic Consensus: A hilarious satire of the business side of Hollywood, The Producers is one of Mel Brooks' finest, as well as funniest films, featuring standout performances by Gene Wilder and Zero Mostel.
Movie Info
Theatrical producer Max Bialystock has fallen on hard times. In an attempt to acquire some money, Max and his accountant conspire to select the worst play, the worst playwright, the worst director, and the worst actor to collaborate on a guaranteed flop, entitling them to keep the investors' excess money.
News & Interviews for The Producers
Critic Reviews for The Producers
Audience Reviews for The Producers
½
Its a shame Mostel didn't have the chance to make more films with Wilder as they are such a fantastic pair more so than Wilder n Pryor even. Mostel was such a brilliant comedian with his facial expressions, heavy set movement and brilliant verbal skills, this Mel Brooks classic shows us this in every way. The plot is actually very clever, simple but clever, but the way each and every character is formed and played out by the terrific cast is the key to the films genius. The whole film is basically quite insane, loony even, Mostel is like a cartoon character as he transforms from cunning to charming on a dime, then U-turns with in your face rants. Wilder's meek, clever and paranoid performance compliments the odd couple duo, very much the new Laurel n Hardy of the time if you will. Brooks favourite choice Kenneth Mars is again in a role that is quite memorable as the shell shocked loyal Nazi whose love letter to Hitler becomes a surprise hit. His performance like everyone else is quite loony and in my opinion better than his character from 'Young Frankenstein', yet not as amusing as the two star leads. The film is off the wall and almost comes across as a feature length 'Monty Python' sketch with some of the best crazy characters ever created. What also works so well are the sets and costumes used, everything is really quite down to earth and of its time. There doesn't appear to be anything fancy used or any large amounts of money spend. Its simply a great example of a character/plot driven film which is purely relying on the genuine skills of its cast, possibly a touch of improvisation. Unlike other Brooks films as its actually kinda sensible, totally over the top and in your face with outrageous acting, but its not an out right spoof. It also still holds up perfectly well to this day and doesn't seem dated in a comedy sense, obviously the costumes and Nazi aspect are getting on a bit these days. Easily some of the wildest and most unconventional comedy (and hair!) you will have seen for a long time, and its genius.
Phil Hubbs
Super Reviewer
½
Mel Brooks' The Producers is an accomplished comedy classic that is superbly acted and directed. This is a funny and entertaining film that is pure comedy when comedy mattered and is a smart film in terms of it not relying on vulgar or obscene comedy bits that so many films of today rely on to try and make you laugh. Mel brooks has crafted a fine movie here, one that is highly entertaining from start to finish and its ridiculous plot make a film to treasure from film lovers that enjoy something truly entertaining humorous throughout. Brooks' work would be more elaborate as he would sharpen his skills as a director, but with The Producers is a work that showcases his talents and you can clearly see his talent in this impressive classic. I do believe that Brooks made better films, but with this one he splashed onto the movie making scene and just delivered something truly refreshing in terms of comedy. The cast here do a fine work and Gene Wilder is very funny and so is the rest of the cast. The idea behind the film is immaculate and very original. Mel Brooks has achieved something unique here, and this is a film that when first released had some unfair flack due to its content. But this is comedy that is effective and tasteful, and it deserves all the praise it has gotten since its initial release. With a great cast, fine direction and a highly thought out and hilarious script, Brooks has made a defining movie that reshaped comedy for years afterwards. If you enjoy smart comic relief and are tired of some bland comedies of today that often miss the mark, well this is a film guaranteed to entertain you. The Producers isn't perfect, but it is a film that is entertaining, fun and ridiculous and should be seen by cinema fans that enjoy these types of comedies.
I think we can all agree that Mel Brooks is one of the great greatest directors of comedy that has ever lived on this planet (I'm not ruling out life on other planets). Everyone knows of how good at making paradys he is. He has a great way at looking at the funny little things that entertain society so much. Most of the planet has probably seen "Spaceballs". But have those people seen "The Producers"? Well, maybe the musical, but what about the original? Before it became one of the broadway musicals that it originaly was mocking? To those who haven't seen "The Producers", it is the tale of an unstabble accountant and a greedy broadway producer who discover that they can make more money with a broadway flop than with a broadway success. They go out to see if they can pull this skeem off, but they end up releasing one of the biggest broadway hits in history. A fantastic story, very creative and filled with opportunities to laugh. And you know what? Not only does it take advantage of all the opportunities to laugh, it gets ones you wouldn't even think of as an audience. Another thing we have to consider is that this was Mel Brooks first movie. No director makes a hit so successful as this on his first go. Anyone who saw this when it was first released had to have known that this man was destined for greatness in film. He didn`t go cheap on this movie either. He got a fantastic cast including Gene Wilder and Zero Mostel. And he didn`t just get a great cast for the leads, but the smaller characters in it really were what made the film. Especially the characters of the man who wrought the play and the lead actor in the play, L.S.B. I couldn`t stop laughing when those guys where on screen. And who could forget Mel Brooks first cameo in one of his own films; a single line he sings, `Don`t be stupid, be a smarty! Come and join the Nazi Party!`. Good times, good times! As for Wilder and Mostel, they were at they`re very best. They were living charactures of things hat were already hilarious. From the first time these characters meet each other, the audience knows they are going to have a real treat by watching these guys. But with these characters, it wasn`t just how funny they were, you really loved them. You felt lucky to be able to spend 2 hours with such interesting people. They were the kind of characters that revolutionized comedy film making for the world! They werent afraid to go over the top with the way they acted. They really just wanted to give everyone some of the greatest laughs of their lives! They didnt use some of the cliches that we see in comedy today, they invented their own! Sometimes, we watch a film and we we finish we realize silently that this film is going to change everything for this film industry, and then you immediatly watch the film over again. If you have not watched this film yet, then what the hell are you doing! GO SEE IT, YOU IDIOT!!!!
Anders Gatten
Super Reviewer
The Producers Quotes
| | |
| --- | --- |
| Max Bialystock: | Don't you see Bloom, darling Bloom, glorious Bloom? It's so simple. Step one: We find the worst play world, a surefire flop. Step two: I raise a million bucks. Lots of little old ladies out there. Step three: You go back to work on the books, phony list of backers - one for the government, one for us. You can do it, Bloom; you're a wizard! Step four: We open on Broadway. And before you can say Step five, we *close* on Broadway! |
| | |
| --- | --- |
| Franz Liebkind: | Not many people know it, but the Führer was a terrific dancer. |
Discussion Forum
Discuss The Producers on our Movie forum!