Promised Land
(2013)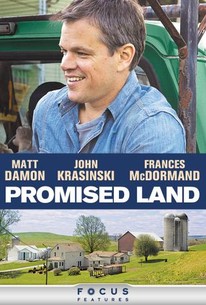 TOMATOMETER
AUDIENCE SCORE
Critic Consensus: The earnest and well-intentioned Promised Land sports a likable cast, but it also suffers from oversimplified characterizations and a frustrating final act.
Movie Info
Promised Land is the new contemporary drama directed by Gus Van Sant (Good Will Hunting, Milk). Matt Damon plays Steve Butler, an ace corporate salesman who is sent along with his partner, Sue Thomason (Frances McDormand), to close a key rural town in his company's expansion plans. With the town having been hit hard by the economic decline of recent years, the two outsiders see the local citizens as likely to accept their company's offer, for drilling rights to their properties, as much-needed relief. What seems like an easy job for the duo becomes complicated by the objection of a respected schoolteacher (Hal Holbrook) with support from a grassroots campaign led by another man (John Krasinski), as well as the interest of a local woman (Rosemarie DeWitt). Promised Land explores America at the crossroads where big business and the strength of small-town community converge.
People Who Like this movie also like
News & Interviews for Promised Land
Critic Reviews for Promised Land
Audience Reviews for Promised Land
½
For the most part, this is an engaging and thought-provoking drama with excellent dialogue and complex characters facing complex ethical issues, but it is terribly frustrating to see it all reach an unjustifiable revelation and an unconvincing - yet thematically consistent - conclusion.
Carlos Magalhães
Super Reviewer
Co-written by co-stars Matt Damon and John Krasinski, this is a nicely low-key drama from versatile maverick director Gus Van Sant on an important, but controversial topic. Steve Butler (Damon) works as a salesman for an energy corporation whose job is to go around with his partner Sue (Frances McDormand) to various economically devastated rural towns to secure drilling rights for the controversial natural gas acquisition process nicknamed "fracking". All seems well and good for these slick corporate players, that is, until they come up against a respected, intelligent, and resourceful teacher (Hal Holbrook), and an environmental activist just as slick as them (John Krasinski). Besides getting into the ethics and morals of the fracking issue, the film is also, if not mainly, a human story. Both sides of the issue are presented in a thoughtful and balanced manner (for until near the end), but the film is mainly a look at one man's conflicted journey as he rediscovers his conscience. Aside from the profanity, this really comes off like a contemporary Frank Capra film. And you know? I'm okay with that. The film is pretty good, and good arguments for both sides are made, but then, the film can't help but dip into a twist which starts to unravel everything. And yeah, the main basic plot line is the typical "crisis of conscience" scenario, but it is well played, despite all the cliches and everything that comes with it. The script is mostly decent though, despite its shortcomings. The performances are where it's really at. Damon, McDormand, Krasinski, and Holbrook are perfectly cast, and their performances are likewise very believable and solid. Rosemarie DeWitt is fine as a potential love interest for Damon, but there's really not a whole lot to her character, and this is just a typical sort of role we get far too often in these kinds of movies, and in many movies in general. Other supporters are fine, but none of them really stand out like the main players do. The film also has some good cinematography and a fitting score by Danny Elfman that I rather like. I think this is a good film, and I'll give it a mild recommendation. I just think that things could have been a whole lot better had the WHOLE thing been as thoughtful as the majority of the running time of the proceedings. But here's to hoping we get more of a big screen presence from Krasinski who shows a lot of promise here, with Damon as his mentor, much like how Van Sant was with him.
Chris Weber
Super Reviewer
5 Stars for Matt Damon; 4 stars for the movie. Matt, great actor, never a letdown. Frances McDormand wonderful. Intelligent script, and really fine performances by all. Don't be distracted by the debate over fracking. This movie is really about a man trying to get in contact with his conscience, and soul. Matt Damon's character tells himself, and others, that he's a good man, but he knows he's sold himself to the corporation. A very moving role for him..a very well done job by him....
Cynthia S.
Super Reviewer
Promised Land Quotes
| | |
| --- | --- |
| Steve Butler: | Everything we have is on the table now. And that's just not ours to lose. |
| | |
| --- | --- |
| Dustin Noble: | You're going to want to stop asking questions now, Steve. You're at the big kids' table. |
| | |
| --- | --- |
| Alice: | Let's see... 40, married, marketing, two kids. |
| Steve Butler: | 38, stripper/waitress, born to be a singer. |
| Alice: | F**k you! I'm a teacher! |
| Steve Butler: | No, I was talking about me. |
| | |
| --- | --- |
| Steve Butler: | We are a nine billion dollar company... do you know what we're capable of? |
| Dustin Noble: | Do you? |