Sleuth
(1972)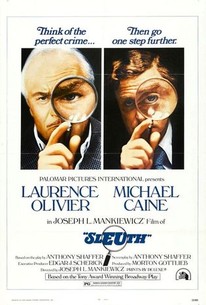 Movie Info
Presented as an exaggerated mind-game, this mystery drama pits two men, one a thriller writer who revels in his own cleverness, the other, the man engaged in an affair with his wife, whom it is claimed has been murdered. The resulting duel of intellects reveals many unexpected twists and turns.
News & Interviews for Sleuth
Critic Reviews for Sleuth
Audience Reviews for Sleuth
½
A great movie adapted from a great play, Caine and Olivier are excellent together, and it's just perfect. I highly recommend this movie.
After a friend told me to see "Sleuth" [1972]. i had to see it! Its a good thing i did because this may be one of the greatest films i've ever seen! In England, the Italian English hairdresser Milo Tindle is invited by the successful writer of detective stories Andrew Wyke to visit his isolated house. The lower class Milo is the lover of Andrew's wife, who is used to have a comfortable life, and he intends to marry her. Andrew proposes Milo to steal his jewelry simulating a burglary. Milo would make a fortune selling the jewels to an intermediary; and Andrew would be reimbursed by the insurance company and would not pay alimony. However, the whole situation was part of an evil game. When Milo vanishes, a detective visits Andrew to investigate what really happened that night, when deadly games are disclosed. Now if you think that thats a dumb plot then you have no movie taste at all. The acting was simply amazing and the movie is filled with twists and turns. I loved watching the cat and mouse game between the two characters which is why i really enjoyed this film. This is an atomatic 5 stars and it hit my top 10 definatly!
Corey Wood
Super Reviewer
Sleuth is brilliantly written, brilliantly acted and brilliantly crafted. It is a stage adaptation of the highest form. The material gets a little samey, which even the movie itself seems to acknowledge toward the end. It's compulsively watchable entertainment, though - dialogue and expression that hasn't aged a drop since 1972. Perhaps it also suffers a little from being overly theatrical, but Olivier and Caine could act the hell out of a character. They are two totally unforgettable presences. And hell, it WAS a play...the adaptation is more generous than some, such as the insufferable House of Yes, but adheres enough to its source that it doesn't lose any of its original essence. If the movie has its faults, it is because of its nature, but you can't really begrudge it much.
Drew Smith
Super Reviewer
Sleuth Quotes
There are no approved quotes yet for this movie.