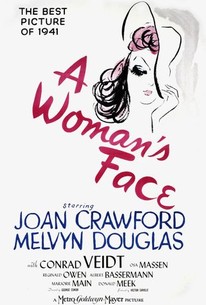 A Woman's Face
1941, Crime/Drama, 1h 46m
8 Reviews
250+ Ratings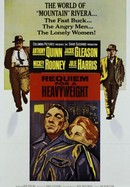 Requiem for a Heavyweight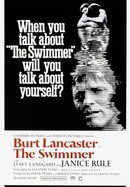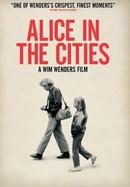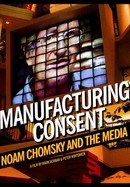 Manufacturing Consent: Noam Chomsky and the Media
Rate And Review
Movie Info
Anna Holm (Joan Crawford) is a terribly disfigured Swedish woman and small-time criminal in Stockholm. Her terrible luck and resulting emotional tumult has left her unable to sustain relationships and ultimately pushes her to a life of blackmailing schemes and ennui. A young doctor (Melvyn Douglas) gives her the opportunity to regain some semblance of beauty and, with it, a chance at love. Will she be able to come to terms with her past and embrace a second chance at happiness?
Genre: Crime, Drama

Original Language: English

Director: George Cukor

Producer: Victor Saville

Release Date (Theaters): wide

Release Date (Streaming):

Runtime:

Distributor: Metro-Goldwyn-Mayer, Loew's Inc.
Audience Reviews for A Woman's Face
Right after directing "The Philadelphia Story," George Cukor made the unfairly forgotten melodrama "A Woman's Face," starring Joan Crawford and a great supporting cast that included Melvyn Douglas and a demonic Conrad Veidt. It's certainly not a great film. But like the vast majority of 1940s melodramas, it's been weirdly forgotten. The first thing that hit me when it started was the unbelievably cheap sets. I don't know how Cukor tolerated cardboard sets. But I put that out of my mind and focused on the story, which was actually quite interesting. A woman (Crawford) has a disfigured face resulting from a house fire that occurred when she was a child. The social and erotic ostracism she experienced because of the disfigurement has turned her soul black. She is just one step away from becoming a serial killer. She meets her demonic equal (Veidt), and they team up to kill a five-year-old boy who stands in the way of Veidt inheriting a fortune. I kid you not; this story gets quite dark. There are other dimensions to the story that add some nice richness. If not for the cheap sets and rancid B-movie music, "A Woman's Face" could have been a major film. The sequence where Crawford is on the verge of killing the child is unforgettable. Oh, and did I say the film is set in Sweden? Sweden, of all places. But all the dialogue is in English. Odd little movie. (Just FYI -- Cukor doesn't have much name recognition these days, but he directed many famous movies, including 'My Fair Lady,' 'Adam's Rib,' 'Born Yesterday,' and the Judy Garland version of 'A Star is Born.')

Not as good as the original Swedish film with Ingrid Bergman.

dark material for cukor, better known for his comedies. he manages to draw a nicely restrained performance from joan crawford, as a woman whose fate is twisted by her disfigured face. and no one does evil like conrad veidt. i'd love to see the original swedish film with ingrid bergman but it must be nearly impossible to find. only one flixster rating!

Sometimes I actually prefer A Woman's Face over Mildred Pierce - Cukor seems to have subdued Crawford a little, making her seem less histrionic - softer and less brittle. But I suppose that's why it's less popular - we want the brittle glamour and we love to see Joanie "suffering in furs". In 'Mildred Pierce' we don't quite believe her as a frumpy house-wife, wearing a pinnie, baking pies so as soon as she dons the shoulder-pads and starts bashing Vida about, we cheer! But Anna Holm is a great character too and just as exciting to me. Scarred physically as well as mentally, Anna takes her misfortunes out on the silly 'beautiful' women of the film with blackmail. It's not long before she is falling for the insidious charms of Conrad Veidt and is seduced into the worst of all crimes - the murder of a child. This poses a troubling flaw in her character (probably not intentional). You don't know till the end of the flic whether she carries out her heinous act or not (this being Hollywood you have a fair idea though!) but the fact that she, at least, considers it seriously is infinitely harder to forgive than her blackmail endeavours. It does add to your interest in Anna though - but at the same time you sympathize with her less. It's still a marvelous film and Crawford is great. Veidt, as usual, is wonderfully malevolent as the villain of the piece and their scenes together are eery and spellbinding (despite some dodgy dialogue) . Many of the minor characters do a fine job too - I particularly liked Albert Bassermann's crusty old Consul and Ossa Massen is a delight as one of Crawford's 'silly' victims (Crawford gets to give her a good slapping). Melvyn Douglas, on the other hand, is only adequate. To me he seems to be in the wrong movie - his screwball and matinée idol pedigree doesn't ring true in such a dark and gothic tale. It's surprisingly cinematic for a Cukor pic (As great as I think his films are, I do find them a little flat visually) - looking very noirish and gothic - especially the way Crawford is lighted. And it has a very exciting chase in the snow for a finale. It has it's faults but they are few and minor. I defy you not to enjoy it!
See Details