Blue Steel
(1990)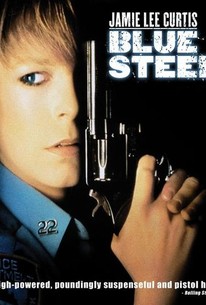 Movie Info
Jamie Lee Curtis plays Megan Turner, a rookie Manhattan cop whose first week on the job is enough to reduce a lesser woman to a mass of neuroses. Things get worse when psycho Wall Street broker Eugene Hunt (Ron Silver) begins to stalk Megan, killing any number of innocent bystanders along the way. This sets the stage for a climactic showdown right in the middle of Wall Street!
People Who Like this movie also like
Critic Reviews for Blue Steel
Audience Reviews for Blue Steel
I saw Blue Steel 25 years after it was filmed. The story is OK, but I found it plodded along at times. Where is the NCIS lab when you need it?
Jamie Lee Curtis does not look very good in a police uniform. There are some good suspense scenes in this film however.
Lafe Fredbjornson
Super Reviewer
Jamie Lee Curtis (Carpenter films aside): poor. Ron Silver: poor. Kathryn "Point Break" Bigelow: oh, so very poor. Not a recipe for success.
Blue Steel Quotes
There are no approved quotes yet for this movie.