Carmen (Bizet's Carmen )
(1984)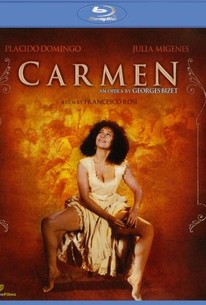 Carmen (Bizet's Carmen ) Photos
Movie Info
This film is a cinematic version of the 1875 opera about a colorful female cigarette-factory worker. Her flirtations with the soldier Don José are soon forgotten as she falls in love with the matador Escamillo.
Critic Reviews for Carmen (Bizet's Carmen )
Audience Reviews for Carmen (Bizet's Carmen )
½
Watched the re-run in the film festival few years back. Shameful me, I was totally fell into sleep...
WS Wu
½
Initially ill-received but today one of the most popular operas of all time, Georges Bizet's CARMEN is a four-act long tragedy of a free-willed (and some might say devilish) gypsy who seduces an unfortunate corporal down a path of self-destruction. As an opera, it is a masterpiece, but on film it is even more phenomenal, especially as directed by Francesco Rosi. This big-screen adaptation was shot entirely on location at Spain, providing for some impressive photography and skillfully executed crowd sequences. Of course, Bizet's score is the centerpiece of the whole movie, which is brilliantly underscored by the National French Orchestra (under the direction of Lorin Maazel) and sung by the likes of Julia Migenes-Johnson (who underwent a lot of self-training prior to her performance), Placido Domingo, Ruggero Raimondi, and Faith Esham, all of who also provide compelling performances. It's a fairly long movie, clocking in at about 2 and a half hours, but when one is engrossed in the whole affair, it is easy to forget the occasionally slow moments.
Jon Turner
I'm confused because I'm not really sure what to make of this movie. Maybe it is because I'm not very familiar with opera in general. I don't know. But this movie didn't do much for me at all. I REALLY enjoyed the music, don't get me wrong. That was great....and I guess for opera singers, they did a pretty decent job of acting. The direction seemed pretty good too. I guess it was mostly the story itself. How freaking depressing! The music made up a bit for that, though, at least for me. I thought the music was fun. I was very disturbed by many things, though: *The goriness of the opening credits....seeing that bull move around in somewhat slow motion with a spear through his "hump" and blood pouring out and pieces of his flesh/hide flying here and there....ugg. And it looked pretty real...like they filmed a real bullfight...who knows, maybe they did...I'm gonna go see if I can find out....anyhow...totally grossed me out and took away all of the romanticism associated with bullfighting for me. *Guess I'm a shallow person who expects the actors/actresses to fit their roll a little more appropriately....wasn't Carmen suppose to be a beautiful temptress? I can get how she was being tempting...but beautiful???? Guess there just must not be any good looking good opera singers out there, or at least that were available at the time...sorry...I know that is mean...but to honest, it bothered me! *SHAVE THOSE FRIGGIN' PITS FOR CRYING OUT LOUD!!!! Talk about turning off any sort of sexual appeal....totally killed the mood *Carmen's constant fascination with teasing by pulling her skirt up all the time...I can see how that could be sexy and tempting etc...but at least in this movie, with this actress, it was a total gross out for me. *I just didn't feel the chemistry between any of the characters....maybe I would have if I had paid closer attention while watching....but I was a little too bored. *And finally, does my lack of romantic feeling while watching this movie mean I'm not a romantic??? Everything that I've ever heard of Carmen has lead me to believe that I should have felt that way....but I just didn't. Can't be me...just can't...I AM a helpless romantic. I gave it 6 out of 10 mostly for the music. My husband fell asleep during it....if that tells you anything.
Michalyn Oliver
Carmen (Bizet's Carmen ) Quotes
There are no approved quotes yet for this movie.
Discussion Forum
Discuss Carmen (Bizet's Carmen ) on our Movie forum!