The Swan
(1956)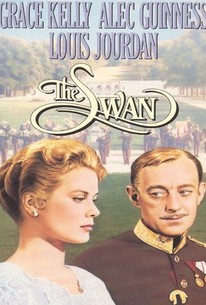 AUDIENCE SCORE
Critic Consensus: No consensus yet.
Movie Info
Frances Howard starred as Princess Alexandria in the 1925 silent version of Ferenc Molnar's play The Swan; Lillian Gish assumed the role in the 1930 talkie version. The third and final adaptation starred Grace Kelly, who had one slight advantage over her predecessors; she would soon become a real princess instead of a make-believe one. And don't think that MGM, knowing full well that Grace would retire from moviemaking upon ascending the throne of Monaco, didn't carefully select the timeworn Molnar play for the express purpose of extra publicity. Outside of its mercenary considerations, The Swan is an enjoyable bittersweet tale of a princess who falls in love with her handsome tutor (Louis Jourdan), only to be required to give him up in favor of an arranged marriage of state. The nicest element of the story is that the prince to whom Kelly is engaged, as played by Alec Guinness, is a decent sort, who voluntarily asks for the princess' hand instead of forcing the issue. Of course, the issue has been forced upon him when he realizes the depth of the love Kelly harbors for her tutor. It may well be that this version of The Swan will be the last; on the other hand, who'd a' thunk that someone would want to make Sabrina again in 1995?
Critic Reviews for The Swan
There are no critic reviews yet for The Swan. Keep checking Rotten Tomatoes for updates!
Audience Reviews for The Swan
½
This is sort of a predictable romance movie with a classical touch. Kelly plays royalty, which she became in real life too, and she's perfect. The movie has some funny scenes, but it's also kind of boring sometimes. Overall it's pretty good.
½
[font=Garamond][size=3]I'm so disappointed. This has proved to be yet another film that I should have left as a pleasant memory instead of watching it again, expecting to enjoy it, and finding it dull and melodramatic instead. Princess Alexandra (Grace Kelly) is a graceful, quiet, young princess, earning the pet name her late father gave her, his "swan". It is 1910, and the royal family is exiled, sans kingdom, in central [/size][/font][font=Garamond][size=3]Europe[/size][/font][font=Garamond][size=3]. Thus Alexandra has been bred and raised for a single purpose: to capture the eye of a crown prince and restore the family to a throne. Her opportunity arrives in the form of her cousin, Crown Prince Albert (Alec Guinness). When he and Alexandra do not hit it off – when, in fact, his visit seems to be going disastrously and all hope is fading away – Alexandra's overbearing mother Beatrix (Joyce Rolls Landis) hatches a diabolical plan. Why not use the handsome, intelligent, young tutor Professor Agay (Louis Jourdan) as a decoy to lure the crown prince? At a ball on the final night of Albert's visit, the hapless Agay is invited to eat, drink, and be merry with the royals, but only if he makes Albert jealous by his attentions to Alexandra. Unfortunately for all involved, no one realized that Agay has secretly been in love with the princess for years. When she suddenly gives him something other than her distant, curt civility, he takes advantage of the opportunity to woo her with impassioned words of love. Poor Alexandra, who desires only to be a queen by whatever means necessary, still cannot resist basking in the glow of her first encounter with love. She almost starts to believe that she's in love with the peasant-born professor, until morning dawns, he comes to his senses, and Albert reeducates her on the way of the world. Though it makes some flat attempts at comedy, the love story is clearly central to the film. This fact makes the complete lack of chemistry between Kelly and either of her costars a bit of a problem. With Guinness, it's understandable. He simply isn't the handsome, worldly prince he was cast to play, and in his desperate attempts to bring the character to life, only the comedic attempts have any success. With Jourdan, it's a little murkier. He really is a handsome, charming person (especially when they give him an excuse to speak French. And he has such beautiful hands! Oops, fetish showing again…). Not only that, but he is quite believable as an educated commoner who dares to dream that a princess will fall in love with him. His stares are burning with passion, but it's all just talk and eyebrow movement. You get the feeling he could be acting the same way to show he was in love with a doorknob (in other words, he and Kelly don't connect at all). Kelly herself, meanwhile, seems to be attempting to show that she can't really act, after proving quite the opposite in earlier films like "The Country Girl" and "High Noon". So the acting is less than desirable. The plot is dull and outdated, based on a 1922 play set in central [/size][/font][font=Garamond][size=3]Europe[/size][/font][font=Garamond][size=3] before World War I, but making no mention of how these squabbling, interrelated royal families would cause so much misery to the millions of commoners they viewed with such disdain. The writing is dreadful, full of running metaphors about birds, mirages, and stars. The filmmaker might as well just clunk the audience over the head with the point he's trying to make. The direction is subpar, with the relatively new technology of CinemaScope used blunderingly throughout. To be fair, the costumes and hair are nice, and the supporting cast shines at times, especially Brian Aherne as Carl, Beatrix' brother and a prince who gave up royal dress for the robes of a monk. But the main interest in the entire film is really just to see Grace Kelly [i]play[/i] a princess in her last film before she [i]became[/i] a princess (by marrying Prince Rainier of [/size][/font][font=Garamond][size=3]Monaco[/size][/font][font=Garamond][size=3]). Overall, a melodramatic theatrical badly translated to film, with good actors doing bad acting jobs in somewhat miscast roles, and overwrought emotions running rampant everywhere.[/size][/font] [font=Garamond][img]http://i567.photobucket.com/albums/ss112/medicatherine/swan.jpg[/img] [/font]
Catherine Dodds
The acting is superb, barnone. Let's just get that out of the way. What irked me about this film was how toward the end, the story just kept switching around like a fish out of water. I mean it gets so bad I wanted to strangle the actors up there and smack across the face and bring them back to reality. It's like listening to someone debating about a crucial decision in life, going back and forth back and forth. But as I said, the acting is very well done. Guinness is a legend and Grace is good I suppose. Louis Jourdan pulls off his part well. This DVD is only available in Asia right now, so your copy will most likely include Chinese or Taiwanese directions. But don't fret, take it as an opportunity to learn a foreign language so that if you're ever in China or Taiwan, you'll know how to say, Play Movie and Scene Selection.
Real Guy
The Swan Quotes
There are no approved quotes yet for this movie.
Discussion Forum
Discuss The Swan on our Movie forum!