The Return of the King
(1980)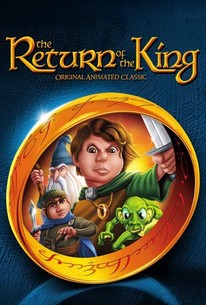 The Return of the King Photos
Movie Info
The second of Rankin/Bass' animated TV specials based on the works of J.R.R. Tolkien, Return of the King plots the quest to defeat the evil wizard Sauron. Frodo, nephew of The Hobbit protagonist Bilbo Baggins, vows to destroy the Ring, even if it costs him his own life. He carries the Ring to the volcanic innards of Mount Doom. All this he does on behalf of good-guy Aragon, who will never be able to escape the dreaded land of Sauron so long as the Ring retains its evil powers. Orson Bean, who'd been the voice of Bilbo Baggins in the 1977 Hobbit cartoon special, returns to portray Frodo. Return of the King originally aired May 11, 1980.
People Who Like this movie also like
Critic Reviews for The Return of the King
Audience Reviews for The Return of the King
½
Just a flat out weird interpretation of Lord Of The Rings, but this doesn't have the awesome roto-casting animation that the first one had. This definitely had the most singing in any non-musical ever, which makes the movie completely pointless and boring at times. I just don't know what was going on behind the scenes to make this adaption so odd and sadly it was all there was for 20 years.
Conner Rainwater
Super Reviewer
The original animated movie covered the first 2 books. It wasn't perfect, but it was very interesting to watch in this post-Jackson era. The Hobbit also had some wonderful designs and interesting moments. Return of the King, is a poorly rushed and choppy completion for the animated saga. It looks very messy and the films points are skimmed over in hurried narration. It's an interesting watch, to see Lord of the Rings go so wrong.
Luke Baldock
Super Reviewer
½
I really enjoyed "The Hobbit" by Rankin/Bass, but thought this movie was a bit of an embarrassment. The animation used the odd Rankin/Bass style as the Hobbit, so I couldn't fault it too much. I found most of the songs painful to sit through. I did get a good chuckle out of the disco Orc song "Where there's a Whip..." The story was quite easy to follow; there was narration which nicely explained things. The end battle was less than spectacular. The Hobbits, Orcs and Gollum were good, but the Human characters failed to offer any engaging interactions. I think this was made for TV - to excuse the Bakshi film which should've been made.
Lafe Fredbjornson
Super Reviewer
The Return of the King Quotes
There are no approved quotes yet for this movie.