Mademoiselle
(1966)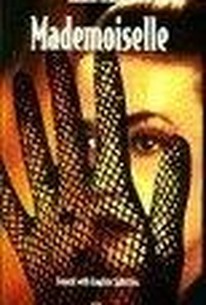 AUDIENCE SCORE
Critic Consensus: No consensus yet.
Movie Info
In 1951, French writer Jean Genet presented a screenplay called "Les Rêves Interdits/L'Autre Versant du Rêve" to actress Anouk Aimée as a wedding gift. He then proceeded to sell the rights three times without telling her. Eventually the script was reworked by Marguerite Duras and filmed by British director Tony Richardson as Mademoiselle, with Jeanne Moreau in the title role. In its final form, Mademoiselle tells the story of a repressed schoolteacher who visits a veritable plague of deliberate "accidents" on the people of her rural French village. She sets fires, poisons animals, and causes floods -- all in a fit of thwarted passion for an immigrant woodcutter. Though Marlon Brando was originally set to play the role of the Italian craftsman, the part went to Ettore Manni when the production schedule shifted. Umberto Orsini plays Antonio, the woodcutter's forlorn son, whom Mademoiselle maliciously humiliates out of perverse desire for his father. A notoriously difficult shoot, Mademoiselle was filmed consecutively with The Sailor From Gibraltar, another collaboration between Richardson, Moreau, and Duras. As for Genet, he despised the casting of Moreau; nevertheless, she would go on to star in Querelle, another adaptation of the author's work. ~ Brian J. Dillard, Rovi
Critic Reviews for Mademoiselle
Audience Reviews for Mademoiselle
½
Considering "Mademoiselle" is a Tony Richardson film starring Jeanne Moreau in her iconic prime, this is a strangely forgotten project. Why it is buried? Well, it's in black and white, and its countryside scenes are begging to be shot in color. It also has some distasteful animal cruelty and an understated ending that defies mainstream expectations. And perhaps it's somewhat disorienting seeing a French-language film shot by a director whose other early works ("Look Back in Anger," "A Taste of Honey," "Tom Jones," "The Loneliness of the Long-Distance Runner) tended to be so intensely British in theme. In any case, "Mademoiselle" shouldn't be overlooked. Moreau plays the title character, a sexually repressed schoolteacher in a small, poor French village. For mysterious reasons, she is secretly setting fires, causing floods and committing other heinous crimes against her community. But her prejudiced neighbors instead suspect Manou (Ettore Manni), a Italian woodsman temporarily laboring in the nearby forest. His son Bruno (Keith Skinner) is equally disdained and even draws unfair abuse from "Mademoiselle" (her proper name is never given) during class. As the poor town's outrage grows, we come to understand Mademoiselle's twisted motive. Moreau was brilliant in these stone-faced, enigmatic roles, and this disturbing drama is another gem on her resumé.
Eric Broome
Super Reviewer
a very subtle horror film with an excellent villainous turn by jeanne moreau
Stella Dallas
Super Reviewer
"Mademoiselle" starts with a middle-aged schoolteacher(Jeanne Moreau) opening the sluice gates on a dam, flooding the small village where she works. By the time she gets back, the villagers already know who did it, Manou(Ettore Manni), an itinerant Italian laborer who is also being blamed for a recent rash of fires. The schoolteacher may not harbor such harsh thoughts towards him, but that does not mean she does not have it in for his son, Bruno(Keith Skinner), in her classes. And then there is another fire to which Manou responds in a very heroic fashion which does not change the villagers' opinion towards him one iota. Based on a story by Jean Genet and screenplay by Marguerite Duras, "Mademoiselle" is a deeply unsettling movie full of memorable images of ugliness and beauty that warns that cruelty will only to lead to more cruelties, set in a village where religion is always in the background. At this point in his career, Tony Richardson was chronologically and philosophically between "The Loved One" and "Charge of the Light Brigade" and "Mademoiselle" has that same satirical edge with a brief debate about whether chastity is more virtue than suffering that turns out to be totally symptomatic of the schoolteacher's existence. She is an outsider like Manou but left alone since she is at least French and not suspected because ironically she appears a paragon of virtue. From what I have read elsewhere, she is much too old to have her sexual awakening now with a sexual angle to her crimes, as she puts on high heels, black lace gloves and makeup before going out to commit them.
Mademoiselle Quotes
There are no approved quotes yet for this movie.