Trauma (Dario Argento's Trauma)
(1993)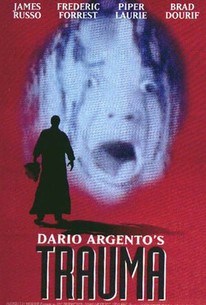 Trauma (Dario Argento's Trauma) Photos
Movie Info
In this suspenseful horror movie, a lovely runaway and a helpful hero go looking for the fearsome "Headhunter," the ghoulish hooded killer who sawed off the heads of her parents.
Critic Reviews for Trauma (Dario Argento's Trauma)
Audience Reviews for Trauma (Dario Argento's Trauma)
½
7.2/10 It's been some time since I last watched a Dario Argento film; as if I've been in rehabilitation for doing such a thing. But as some horror fans say; a Dario Argento film a day keeps the crappy remakes and failed attempts at the genre away, so I think I'll start watching more of this rather brilliant man's films soon enough. I've seen quite a few of them; mostly his old stuff. But today, I decided to watch one of his newer releases; "Trauma". So how does the film hold up against the director's best, like for example: "Suspiria" or "Deep Red"? It holds up nicely enough, and that's all I can really say. As far as Dario Argento films go, this one is pretty solid. In fact, it's not bad at all, which is surprising; given how the guy has gotten worse, progressively, ever since he continued to make films in the modern age. "Trauma" proves that he's still got some steam left to blow; and some madness to still let loose. This is good, because I rather enjoy Argento's macabre visions and his treatment to violence as a style. His films are never sickeningly gory, but rather stylish and even artistic. "Trauma" is no masterpiece, but I liked it. The story is often times absurd, but that actually tends to work to its advantage. It is self-aware of its absurdity, which is always nice. It's the tale of a kindly young man (Christopher Rydell) who discovers an anorexic young lady (Asia Argento) attempting suicide by jumping one day, off of a local bridge. He saves her and takes her in as a friend; and makes it his job to care for her. But that's not the story; that's not where the meat is at. Romance is merely a side-story, as from the opening sequence, we learn that there's a genuine "Head-Hunter" on the loose; decapitating seemingly everyone who he can corner. But we soon learn that, as with all films of this sort, there is something far more sinister in his murder pattern. The story is predictable, the romantic approach isn't anything new, and the whole thing either makes sense or it doesn't; and I think it does. It might be too simplistic of a movie for some people's taste, but to me, it's a fun time at the movies. Fans of Argento should be pleased to see his stylistic choices for the film; one of them being the first-person shots of the killer staring his victims in the face, like all good movie stalkers should. I love scenes like this; they are hypnotic, and the scenes present here are no exception. The gore scenes/kill scenes are also entertainingly impressive, although not quite as good as the ones in "Suspiria" and "Tenebre". Dario Argento doesn't do anything daring here, but what I seem to like most about the guy is the fact that I always want more of the same psychotic, mad brilliance from the man. So, what's the downside to the film? No awesome, screeching score from Goblin or Claudio Simonetti. That's pretty much the only true down-side. Nothing in the film feels half-assed. There's a lot of admirable attention to detail, the film is thoroughly entertaining/engaging, and I couldn't help but enjoy the campy feeling of it all. Some of the performances are intentionally over-the-top in their campiness, which is good, because a horror film is either gleefully ridiculous or absurd, or it just sucks. This is how it goes for most of them at least. Since it's not great, I'm not sure if it's a must-see for all movie-goers, but it's definitely one to see for the horror fanatics. "Trauma" is a solid chiller with scares, gore, and enough inventive ambition to keep me with a twisted smile on my face.
Ryan Marshall
Super Reviewer
Poorly structured and scripted "US Giallo", but Argento's visual flourishes and some ingenious set pieces keep things moving and interesting. Plenty of severed heads (including some *risible* talking decapitations) and double crossings abound. Trashy but enjoyable.
Daniel Parsons
Super Reviewer
The obvious American influence of Dario Argento's Trauma is apparent right from the start. A killer dubbed the headhunter decapitates women with garotte wire. Not one of Dario Argento's accomplishments, however it is really good, but Trauma is not a legendary film like previous Argento works such as Suspiria and Deep Red. The film is tense and horrifying, and is quite entertaining. However, the golden age of Dario Argento is over, but this film has all the signature Argento trademarks are there, but theres something missing to truly make it an Argento masterpiece. I guess thats what happens when the American get involved. Hollywood has to cheapen up something thats already very good. The film is still very good with plenty of Argento violence, but this film doesn't belong on the shelf beside his greatest achievements. Trauma for what it's worth is still a worthy horror film to watch as the film high point is Tim Savini's awesome special effects.
Trauma (Dario Argento's Trauma) Quotes
There are no approved quotes yet for this movie.