Orlacs Hände (The Hands of Orlac)
(1924)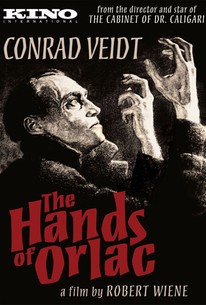 Movie Info
In this classic horror film, based on a novel by Maurice Renard and filmed by Robert Wiene (of Dr. Caligari fame), a world-famous pianist burns his hands in an airplane crash. A mysterious doctor offers to do a transplant and the pianist, his career on the verge of ruin, accepts. After a series of mysterious strangulations occur around him, the pianist beings to suspect the culprit might be his new pair of hands. His search for the donor is impeded as his new appendages slowly drive him insane. This film has been remade countless times, the most successful being the 1954 Mad Love version with Peter Lorre in the lead. ~ Brian Whitener, Rovi
Critic Reviews for Orlacs Hände (The Hands of Orlac)
Audience Reviews for Orlacs Hände (The Hands of Orlac)
a lot of fun. veidt's anguished performance here may only be matched by peter lorre's maniacal doctor in the 1935 remake 'mad love'.
Stella Dallas
Super Reviewer
½
It's that often told story of a musician who loses his hands and gets a new set transplanted from a murderer. Does the man control the hands, or will the hands lead him on a rampage to express his own guilty desires? This low-budget Austrian production reunites actor Conrad Veidt with director Robert Wiene (The Cabinet of Caligari). Although the pacing is a bit off at times, this is a very entertaining late-nighter for those interested in German Expressionism.
El Hombre Invisible
Super Reviewer
A tasty curiosity for those interested in Chris Kattan's pre-SNL work. Seriously, I was a bit disappointed with this film. Good beginning, good ending, dull middle. The acting is of that outdated school of bulging eyeballs and staggering around at quarter speed to look "tormented," and the slow pace - - even crossing a room sometimes seems to take forever -- really takes a bite out of the story's appeal. And unlike with some similar films of the period, the sets are not eye-catching enough to compensate. I much preferred the Peter Lorre remake, "Mad Love."
Eric Broome
Super Reviewer
Orlacs Hände (The Hands of Orlac) Quotes
There are no approved quotes yet for this movie.