Witch Hunt
(1994)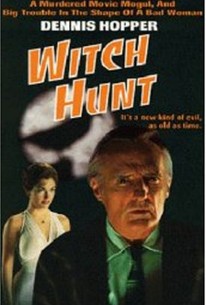 AUDIENCE SCORE
Critic Consensus: No consensus yet.
Movie Info
Dennis Hopper stars as a 1950s-style detective working in a magical Hollywood in this made-for-cable mystery. Hopper stars as H. Phillip Lovecraft, a detective who refuses to use magic in a fantasy world where magic is the norm. When Lovecraft is hired by a blonde (Penelope Ann Miller) accused of murdering her film-producer husband, he enlists the aide of a local witch for help in solving the case.
Rating:
R
Genre:
, ,
Directed By:
In Theaters:
On DVD:
Runtime:
Studio:
HBO
Audience Reviews for Witch Hunt
In a strange turn of events the "Cast A Deadly Spell" sequel, which sports a more renowned director Paul Schrader (Misishima: A Life In Four Chapters, Cat People, and screen writer of Taxi Driver) and star Dennis Hopper as H. Philip Lovecraft, now in a 1950's where everyone does magic, is the weaker of the two. Hopper looks tired and confused, and his clothing seems awkward to the rest of the cast around him. Schrader's story in place of the Cthulu mythos, which served so succinctly in the first film, gives us a parable of the Mccarthy hearings. As a charismatic senator begins a campaign to clean up the decadent magic infested Hollywood area. Lovecrafts, landlady is hired to summon famous writers like Mark Twain and William Shakespear, to work as screen-writers for the studios, comes under government attatck, and its up to Lovecraft to figure out who killed a powerful Producer(by shrinking him so small that his dogs ate him), before all magic users are blamed and scape-goated. The tongue in cheap, of the first film, is transformed here into "give magic a chance?" "we are the world" sentiments. The special effects have improved and some scenes are more menacing than anything in the first film, but the humor, confidence, and style of former, have begun to run dry. Shrader's treatment is too serious (the inner self speech of the senator, is the best example) for its good. If you liked the first one(I did, though I remember this one more clearly from childhood), its worth watching.
Joseph Sylvers
Same plot as Cast a Deadly Spell. I'm pretty sure this was the one I liked. I loved this one. It's pretty cheap, but whatever. It's about a normal 40s-50s world only people use magic. It's neat seeing magic so commonly integrated into modern life. All in all I liked this movie alot.
John Trifiletti
I honestly don't remember ever seeing Dennis Hopper act BADLY in anything. Until now. This was the worst performance I've ever seen from him, and I think part of the problem is he was simply miscast for the part. Hopper was just stiff and it looked like he was acting. And the guy who was playing the "evil hired warlock" couldn't keep a steady accent for two sentences. He went between really bad Germanic to really bad English/Irish with annoying irregularity. It's supposed to be a spoofy-noir PI flick about a dead Hollywood producer with the obligatory starlet wife/suspect/client for the PI. It also has a McCarthy Clone senator having public hearings, subpoenaing people to out their friends and colleagues who are "practitioners", and attempted public witch burning. And just to get obnoxiously nitpicky, I found it very annoying that they had a Vodun priestess leading a Wicca-esque coven in a classic circle with absolutely no semblance of accurate ritual. Really, it's not like you can't go down to the local bookstore and look up how to at least fake a circle ritual.
Kimber McLeod
Witch Hunt Quotes
There are no approved quotes yet for this movie.
Discussion Forum
Discuss Witch Hunt on our Movie forum!