The Hill
(1965)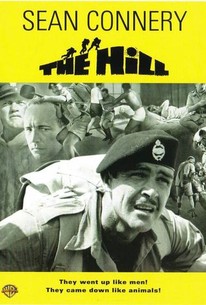 Movie Info
The Hill was unfairly subjected to ridicule by the more obtuse "critics" of 1965 who harped on the fact that it starred Sean Connery and, unlike Connery's Bond pictures, had no women in it. Bypassing these cretinous comments, it must be noted that The Hill is an above-the-norm entry in the "military prison" genre. The film takes place during World War II, in a Libyan stockade for incorrigible British soldiers. The camp's brutal Sergeant Major (Harry Andrews) puts his charges to work on grueling, monotonous and pointless projects to break their spirits. When one rebellious inmate dies due to this treatment, the Sergeant Major is reprimanded by Joe Roberts (Connery), who has been appointed as the prisoners' spokesman. The result is that Roberts is likewise subjected to the most demeaning and humiliating of prison chores -- but his spirit, and that of his comrades, is not so easily crushed. Based on a TV play by Ray Rigby, The Hill should never be seen in any form other than its dusty, parched original black-and-white; the currently available colorized version is a crime against humanity. One problem: The British dialects in the first 20 minutes are so thick that an American viewer practically needs subtitles (British critics chalked this problem up not to elocution but to poor sound recording). ~ Hal Erickson, Rovi
News & Interviews for The Hill
Critic Reviews for The Hill
All Critics (5) | Fresh (5) | Rotten (0) | DVD (2)
Starkly realistic, uncompromising, and splendidly acted by an all-star cast, headed by Sean Connery, Sideny Lumet's 1985 film is a most powerful prison drama.
Uncompromising look at the inside of a British military prison in North Africa during WW II.
The Hill is tense, it's exciting, it's suspenseful, it's everything a good action picture should be, plus it adds a healthy dose of realism and thought.
Audience Reviews for The Hill
In a British military prison camp harsh measures are taken to "turn these men into soldiers". When is too much discipline too much? Excellent performances, brisk direction, spare writing all combine to make this truly a potboiler of a work that you may have never heard of. I first saw it at a drive-in, back when it was first released, 49 years ago. Holy smoke.
Kevin M. Williams
Super Reviewer
½
A good film is like a kick in the ass, or a ferocious slap that wakes us up, makes us realize about something, or reminds us about something we thought we had forgotten. This brilliant antimilitary films shows in crescendo harsh and intolerable conditions that would force any human being to abandon reason and to embrace the animal inside, to stop submiting to dictates of a nation, a regiment, or an insensible fool at charge. Sean Connery embodies all that rage in every single look and word he speaks. Sidney Lumet knows exactly where to put the camera, how to move it, and when to cut. Films like this, 'Fail-safe' and 'The Pawnbroker' all have that same clear delineation, razor-sharp intensity in their mise en scene, and all end up in an absolute disgrace that have left me mute, wild-eyed, about to become like Charlton Heston at the end of 'Planet of the apes' screaming at the top of my lungs for the evil that men do, an inarticulate prayer with no receiver.
Pierluigi Puccini
Super Reviewer
½
Like all of Sidney Lumet's early work, The Hill is a spectacular exercise in escalated tension and groundbreaking direction. Sean Connery (in his best non-007 performance) is as much of a smart-ass as he is a bad-ass but Ossie Davis steals the show. The Hill starts off impressively then dries out toward the middle. But once the final act kicks in, look out. I was reminded a lot of Cool Hand Luke and Paths of Glory while watching The Hill. It's a shame that Connery's best performance (I've seen so far) went as unnoticed as this movie did.
Michael Gildea
Super Reviewer