Before and After
(1996)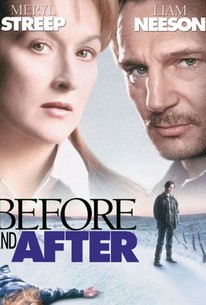 Movie Info
A family nearly comes apart after their teenage son is accused of murdering his girlfriend in this melodrama. Up until then, the Ryans had seemed a normal, happy clan with mother Carolyn a successful pediatrician and father Ben a prominent sculptor. The nightmare begins when the bloody corpse of a teenage girl is discovered in a snowy field. Knowing that the Ryan's son Jacob was on a date with the victim the night she died, the policemen come to their house to question him. Ben, without thinking, immediately and violently defends Jacob's innocence. Unfortunately, Jacob has apparently taken off. Though Carolyn wants to believe her son is innocent, she also wants to know the truth and wants the matter to be taken care of in accordance to the laws. Ben will do anything to protect his son and when he finds potentially damning evidence in the car, he doesn't think twice about destroying it. Over a month later, he finally returns. He is so traumatized that he can barely speak, move or eat. Eventually, Ben is able to coax the truth from his son. To help their boy, the Ryans hire a prominent lawyer, Panos Demeris. Back at home the family becomes increasingly divided as the trial date draws nearer and nearer.
People Who Like this movie also like
Critic Reviews for Before and After
Audience Reviews for Before and After
Jacob Ryan (Edward Furlong has become adept to playing the disturbed teen-American History X and Terminator 2) plays a moody 16-year-old who is accused of murdering his two-timing girlfriend (Alison Folland) and has to suffers the consequences of his actions. Jacob's concerned parents are played by Liam Neeson and Meryl Streep who are caught between covering for their son and telling the truth. Also starring Alfred Molina as the stereotypical lawyer who is interested more in getting Jacob off the hook, than doing what is morally correct.
½
What would you do if your kid was accused of murder? Liam Neeson and Meryl Streep create very believable characters at odds with how to handle this very situation. With such a strong leading cast, and a thought-provoking storyline, it fell a little (just a little) short of my expectations. Neeson and Streep play a very affluent couple in a small town whose lives are completely changed when a young womans body is found, and the police suspect their son of her murder. Neeson is great as a dad whose first instinct is to protect his son, even to the point of getting rid of supposed evidence. Streeps character, who believes totally in her sons innocence, is willing to give the police full access in hopes of finding her son; who has been missing since the event transpired. Together they must face their home town that has not only abandoned them, but also has become hostile towards them. They must search for their son and find the truth. The beauty in this movie is watching a realistic transformation of a family facing, coping, and eventually moving forward after a crisis.
nefnie lee
Super Reviewer