Primal Fear
(1996)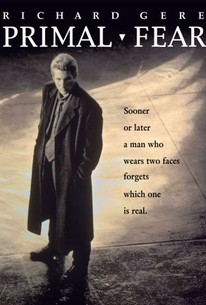 Movie Info
A high-profile slaying becomes the case of an ambitious attorney's career in this legal thriller based on the novel by William Diehl. Richard Gere stars as Martin Vail, a famed defense lawyer who volunteers his services to Aaron Stampler (Edward Norton), a Kentucky teenager charged with the murder of a Chicago archbishop. Covered with blood, Aaron was captured after a foot chase broadcast live on TV, making a gleeful Vail certain that he could raise his profile by defending the obviously guilty suspect. Assigned to prosecute is Assistant District Attorney Janet Venable (Laura Linney), who is Vail's ex-girlfriend. Vail's case becomes more complicated than he expected when a psychologist, Dr. Molly Arrington (Frances McDormand) concludes that Stampler suffers from multiple personality disorder. Vail also uncovers evidence that the archbishop was involved in a corrupt land scheme and may have molested young parishioners. Now the cynical, opportunistic attorney is faced with a daunting prospect, a client who may actually deserve his best defense. Its shocking, twist ending made Primal Fear (1996) a big box office hit and earned Norton, in his screen debut, an Oscar nomination for Best Supporting Actor. ~ Karl Williams, Rovi
News & Interviews for Primal Fear
Critic Reviews for Primal Fear
Audience Reviews for Primal Fear
Primal Fear is a well crafted court room drama thriller that is very well directed by underrated Gregory Hoblit. I really love his movies and Primal Fear is taut, thrilling edge of your seat movie that will keep you guessing from start to finish. The film boasts a great cast of talented actor who light up the screen and each actor brings something unique to the film. The film is notable for being the screen debut of Edward Norton who just steals the show among veteran actors like Richard Gere and Laura Linney. The film at times does have a few weak points, but with a great cast at hand that just light up the screen, it is hard to notice the film's imperfections. Edward Norton, like I said is simply wonderful in his part and he delivers a phenomenal first performance in his role of Aaron Stampler, a teen accused of killing a popular archbishop. The film is engaging from the first frame onwards and it is skillfully executed to keep you entertained. Primal Fear is one of the best court room thrillers that I have seen, and it is a film that is directed by a director that deserves much more praise than he gets. If you love thrillers that will keep you on the edge till the very end, Primal Fear is one such movie. This is a chilling piece of work that is brilliantly constructed and has a smart plot with all the necessary ingredients to make it a standout film and a memorable one that you soon won't forget. The film showcased Edward Norton's talents and it was clear that by seeing him in this early role, he would become a talented actor that would deliver terrific and engaging performances.
½
One detriment of the film is its mainstream formula. It needlessly adds the romance of Gere and Linney, which is both frivolous and unrealistic. I'm not sure which audience was being catered for with their wholly unlikely association with each other. Though hampered by Hollywood's depiction of a courtroom, Primal Fear is a twisting, entertaining thriller with Edward Norton's performance being the key to its success.
Jack Hawkins
Super Reviewer
"A very interesting twisted story. I didn't really know much about the movie. I just was cruising through Netflix looking for a good crime drama and saw Mr. Gere on the cover and hit play. Gere never disappoints in these types of films. I miss him in movies. I was surprised with all the good actors this movie had in it. I really enjoyed the movie and the way it played out. I kinda saw the ending coming since I was watching with my mother who has a big mouth and continues to tell me what's about to happen. I hate watching films she's already seen. But still I was completely enthralled by the story and the unravelling of it all. A movie I would see again.
♥˩ƳИИ ƜѲѲƉƧ♥
Super Reviewer
Primal Fear Quotes
There are no approved quotes yet for this movie.