Crime Story (Zhong an zu) (New Police Story) (Police Dragon)
(1993)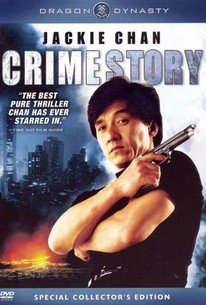 Crime Story (Zhong an zu) (New Police Story) (Police Dragon) Photos
Movie Info
This thriller is probably most notable for its personnel: international superstar Jackie Chan and Kirk Wong, a Hong Kong action director who broke through to Hollywood in the 1998 American film The Big Hit. Chan portrays Inspector Eddie Chan, who must investigate the kidnapping of a wealthy businessman. While Chan hunts down the kidnappers, things complicate further when it is revealed that a high-ranking police officer (Kent Cheng) is part of the conspiracy. Chan's dramatic turns in this film are a strong departure from his usual slapstick comedy, and the film's action emphasizes traditional gunfights over his kung-fu acrobatics.
Critic Reviews for Crime Story (Zhong an zu) (New Police Story) (Police Dragon)
Audience Reviews for Crime Story (Zhong an zu) (New Police Story) (Police Dragon)
½
Jackie Chan is no doubt an icon of his own and is know for his good sense of humor. In Crime Story, Jackie Chan gives us his best dramatic performance ever in a unrecognized classic. In Crime Story, Chan plays a special agent assigned to protect a wealthy business magnate, but when the businessman is kidnapped in a daring ambush, Chan teams up with a seasoned detective to crack the case...even though he suspects the detective is the crime's true mastermind! Obviously this make one interesting story as I kept finding myself more and more invested into the movie as the plot developed. Though I think people will be disappointed for the lack of martial arts and a lack of Jackie Chan signature humor in this movie. I have to say, for the few action sequences it has they sure were memorable. There a car chase, explosion, and Jackie Chan gun fight in building that's burning shouldn't disappoint Jackie Chan fans and action fans. Now since this is based around a true crime, I respect the way the film crew handle this story and did a good job of it. While I may not know exactly what happened, it respects the material is base on. Crime Story is a can't miss for Jackie Chan fans, while it may be different from most of his movies, you won't be disappointed.
Caesar Mendez
Super Reviewer
½
Surprisingly dark for a jackie chan movie. More violent and with more of a focus on gunplay than any of his other films. The intro with the cops versus the villains in their hideout actually feels more like a Saw film than a martial arts movie...again hardly something you would expect from a Jackie Chan movie. Definitely worth seeing, but just be prepared for the dark tone that this film takes.
Stephen Skudlarek
Super Reviewer
A welcome change of pace for Jackie Chan, as he pulls off a dramatic role under the expert direction of Kirk Wong.
Dean McKenna
Super Reviewer
Crime Story (Zhong an zu) (New Police Story) (Police Dragon) Quotes
There are no approved quotes yet for this movie.