Noah's Ark
(1999)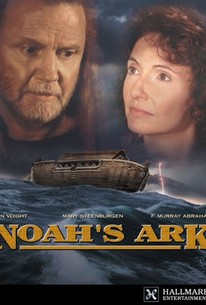 AUDIENCE SCORE
Critic Consensus: No consensus yet.
Movie Info
The biblical story of Noah and the Great Flood gets a decidedly unusual retelling in this film, produced as a two-part TV movie and first aired on NBC in May 1999. Noah Jon Voight is an ordinary laborer who one day begins receiving messages from God. It seems the Lord has a special assignment for him: since God is planning on destroying the world with a massive flood, he wants Noah to build a giant ark and fill it with one male and one female of each animal on earth. So why Noah of all people? As God tells him, "You fit the bill. Good times, bad times, you believe in me." And why a 500-foot-long ark? "I think big! I made the world in seven days!" Joining Noah on the trip of a lifetime is his wife Naamah (Mary Steenburgen); those not invited along for the ride are F. Murray Abraham as Lot, Carol Kane as his wife Sarah, and James Coburn as a peddler. Some video versions run 140 minutes.
Critic Reviews for Noah's Ark
Audience Reviews for Noah's Ark
(1999 Director: John Irvin) Is it really possible tha Noah in this movie was portrayed by Jon Voight?? Adored James Coburn's performance and the surprising performance by Carol Kane.
One of the worst movies I've seen, even for Christian like me. Everything in the movie is a huge mixed up of serveral Bible stories combined. I give extra 1/2 star for having some guts to show this on TV. The way this movie is going, it is going straight to hell.
Noah's Ark Quotes
There are no approved quotes yet for this movie.