The War Zone
(1999)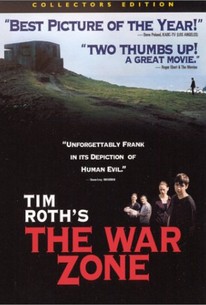 Movie Info
The molten emotional power that flows from Tim Roth's directorial debut carries multiple messages that sear one's soul. Yet it also faithfully portrays one of the harshest aspects of the relationship between children and parents. Based on an acclaimed novel by Alexander Stuart, The War Zone is an often-troubling exposition on family dynamics and the dysfunction that bubbles beneath the surface. Award winning actors Ray Winstone and Tilda Swinton, along with complete newcomers Lara Belmont and Freddie Cunliffe, give such incredibly deep and intense performances that one is definitely riveted (almost painfully so) to the screen. The family has just resettled in the Devon countryside from London, and fifteen-year-old Tom is bored and lonely, while his eighteen-year-old sister, Jessie, seems much more comfortable in the new surroundings. When "mum" gives birth to the family's third child, despite a near-tragic car accident on the way to the hospital, all appears to be well. But this happy event is shattered when Tom stumbles upon a horrific scene, and in short order the appearance of normality is unmasked, and any semblance of trust and kinship is threatened. Director Roth designs an inexorably desperate drama that questions the very fabric of family life even as it eschews pat explanations or psychological reduction. With an extraordinary feel for the banality of real-life evil and an almost-claustrophobic jolt of narrative truth, The War Zone stays with you long after you have left the theatre.
Critic Reviews for The War Zone
Audience Reviews for The War Zone
A tight knit English family moves from London to the isolated Devon countryside where the formative young son accidentally discovers that Dad is seriously violating Sis ... about the hardest look at the inner workings of dysfunctional family politics as I've ever seen. Not for everyone by any stretch. Roth's directorial premiere is eyeball scorching, gut churning stuff.
Kevin M. Williams
Super Reviewer
Accusations of incest surface in an isolated family. This is a remarkably dark drama. The pace is slow and the mood is always heavy. While I understand that the story and subject matter fit the dreary atmosphere, I couldn't help but think that I'd rather slit my wrists than continue watching. There is little energy behind most of the performances, which often amount to pensive, angry looks in steady shots. This is true save Ray Winstone, whose character has life and a humanity despite his depravity. The one compelling moment is in the third act when Tom finally confronts his father with his suspicions. Winstone gets to show off his talent, but the rest of the cast is left in the miasma of the film's heavy climate.
Jim Hunter
Super Reviewer
A grim, searing depiction of incest and an overall unforgettable film which details a loving family of five and how three of them (all except the newborn baby and mother) quietly battle a troubling secret that threatens to rip them asunder. This film is paced to perfection, expertly acted, and masterfully concluded by director Tim Roth (a fantastic actor in his own right as well), and leaves absolutely nothing out. The atmosphere is appropriately dark, complementing the gray and rainy setting of the story. It does fall under "not a film for everyone" territory, it's definitely an emotionally draining experience that covers an issue only lightly touched on in cinema before. Kudos to Roth for bringing an uncompromisingly brutal and bleak story like this to the screen - it's the stroke of a genius film-maker.
Dan Schultz
Super Reviewer
The War Zone Quotes
There are no approved quotes yet for this movie.