All Creatures Great and Small
(1974)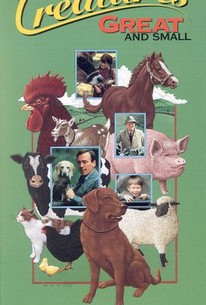 AUDIENCE SCORE
Critic Consensus: No consensus yet.
All Creatures Great and Small Photos
Movie Info
This feature-length dramatization of James Herriot's best-seller was issued by EMI as a big-screen theatrical release in England, but debuted on NBC as a telemovie in the United States, February 4, 1975. It stars Simon Ward as Herriot in his early days as a veterinarian. The story picks up in 1937, with Herriot's first assignment as assistant to eccentric Yorkshire vet Siegfried Farnon (Anthony Hopkins). The film's highlight is the strenuous delivery of a newborn colt; its most poignant moment is the mercy killing of a seriously ill dog. In between "cases," Herriot courts pretty farmer's daughter Helen (Lisa Farrow). The film eventually spawned a television series.
Critic Reviews for All Creatures Great and Small
All Critics (4) | Fresh (3) | Rotten (1)
Inevitably episodic, and fairly sentimental, this has warm-hearted performances .
For even the most sophisticated grown-ups this film will have a lot of charm.
Audience Reviews for All Creatures Great and Small
All Creatures Great And Small is a film adaptation of James Herriot's first two semi-biographical books, If Only They Could Talk and It Shouldn't Happen To A Vet. Set in 1930's Yorkshire, newly qualified vet, James Herriot MRCVS, follows up a job advert to work in Siegfried Farnon's practice in the town of Darrowby. What follows is the first chapters of a legendary career where James has to deal with a wide range of interesting and difficult customers... and that's the humans. With a client list including an over-pampered pekinese dog with a taste for human food called Tricki Woo,difficult calvings and horses with bowel torsions, James has an interesting client list. But when his practice owner changes his mind about what a good vet should and shouldn't do and regularly "sacks" his lazy younger brother, a new practice secretary who disapproves of the owner's accounting methods and he's looking to kindle a romance with one of the local beauties, James also finds that his home life is equally as interesting. Bearing in mind that this film has to cover plot elements from two books, the film version of All Creatures Great And Small was always going to be a tough proposition, but it carries it off reasonably well. The look of the film matches how you feel a 1930's Yorkshire should be based on Herriot's books and this is due, in no small part, to the use of the North Yorkshire towns of Pickering and Malton as the locations for the fictional town of Darrowby. Simon Ward is well cast in the role of Herriot as he portrays the novice vet with naive enthusiasm, nice touches in the romance parts of the film and, when he encounters a case where he has to humanely kill an animal, a sense of youthful, simmering anger. Anthony Hopkins portrays Siegfried and you do get a sense of the contradictions in the character between the unorganised practice owner who is berated by his practice secretary and the uncompromising paragon of veterinary virtue. Brian Stirner portrays the youthful Tristan, brother to Siegfried, and uses his limited screen time well to set up the character as a feckless and lazy student who annoys his brother with his lack of application. The final member of the main cast is Lisa Harrow who takes the role of Helen Alderson/Herriot. Her role is pretty much straight forward as the romantic interest for James. However, she works well alongside Simon Ward and provides a nice touch of romance amongst the stories of sick animals. The problems for this film are two fold and neither of their making. Firstly, if you lived in Britain during the late 70's to late 80's, there was a highly successful television series of the same name and, unfortunately, this series casts a very large shadow as you can't imagine anybody other than Christopher Timothy, Robert Hardy and Peter Davison playing James, Siegfried and Tristan respectively. The second is the rapid transitions within plot elements (which also mean that some stories are either altered or not included). The film version of All Creatures has to do in 90 minutes what the television version was afforded 9 hours to do. That said, it's a decent film whose main problem is lack of time to allow the story to breathe... a film for whenever it's on television.
Theta Sigma
Super Reviewer
All Creatures Great and Small Quotes
There are no approved quotes yet for this movie.