What Planet Are You From?
(2000)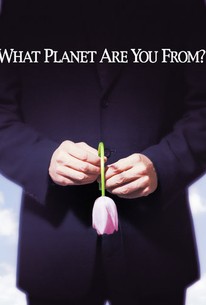 TOMATOMETER
AUDIENCE SCORE
Critic Consensus: Though What Planet Are You From? has some laughs, it's too inconsistent and bland for critics to give it their recommendations.
What Planet Are You From? Photos
Movie Info
Garry Shandling makes his big-screen debut as a leading man in this sci-fi romantic comedy. Harold (Shandling) is an alien from another galaxy sent to Earth on a vital mission: in order to ensure that his civilization will prevail, Harold must impregnate an Earth woman. But he discovers that this is more easily said than done, as he quickly gets a crash course in the arcane rituals of the human courtship process. What's worse, just when Harold thinks he's making progress in Earthbound seduction, he discovers that the males of his planet don't physically interface properly with women on Earth, so he is issued a variety of bizarre gadgets to complete his assignment. Mike Nichols directed What Planet Are You From?, which also features a top-notch supporting cast, including Annette Bening, John Goodman, Ben Kingsley, and Camryn Manheim.
News & Interviews for What Planet Are You From?
Critic Reviews for What Planet Are You From?
Audience Reviews for What Planet Are You From?
What Planet Are YouFrom? is not about the destruction of earth nor about the inane sex comedy a number of reviewers labeled/described it. The film explores the nature of male/female relationship quite well. Questions like: How do we meet each other? What are the female motives for entering the courtship dance? The female reasons? Why is communication between the sexes so difficult? What is about the birth of a child that can heal the saddest relationships? And on and on. The film doesn't pretend to offer much in the way of answers to these questions, but that's okay. It is enough that it simply raises them. As a science fiction flick, this is not much of a close encounter picture. But as a human drama packed with laughs, it's quite good. Near the end of the film, the audience is shown an exterior shot of Gary Shandling's planet for the first time. It is a Metropolis-like setting and is completely gray. This bit of symbolism is akin to the drabness of male existence without female companionship--towering and impressive as an edifice, but cold and colourless and empty as well.
Cinema Films
Super Reviewer
½
I watched this movie really wasted, so I'm not sure if this review is really all that fair. From what I remember there are some great, funny scenes from a really talented cast. Kinnear has some really funny asshole moments and John Goodman seems to make anything work. Annette Bening is the definition of a cougar and really brings a real levity to a lot of really stupid situations. The film is cute and inventive at the opening, but then gets bogged down by some really lame stuff. Shandling is funny, but there is this whole running away from the bad guys scene which really turned the movie into a stupid chase film in an already reaching plot. Either way, not terrible and a good way to pass the time while you are waiting for everyone to pass out so you can fall asleep on the couch.
½
I can't believe Mike "The Graduate" Nichols directed THIS.
What Planet Are You From? Quotes
There are no approved quotes yet for this movie.
Discussion Forum
Discuss What Planet Are You From? on our Movie forum!