Thick As Thieves
(1998)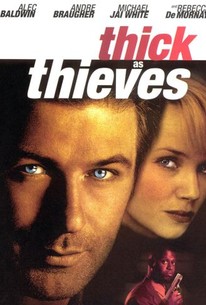 AUDIENCE SCORE
Critic Consensus: No consensus yet.
Movie Info
Two self-styled criminal masterminds find themselves in a turf battle neither much cares about in this underworld story that balances comedy against drama. Alec Baldwin plays Mackin, a career thief who picks his jobs shrewdly and carefully, and prefers to spend his downtime with his collection of rare jazz LP's and looking after his dog. Pointy (Michael Jai White) is a young upstart gangster trying to develop a taste for refinement and the good life. When Pointy sets up Mackin, Mackin is forced to retaliate, and before long both men and their associates are in the middle of a war neither is especially interested in winning, which begins to escalate in comic fashion. The skirmish eventually attracts the attention of a female cop (Rebecca De Mornay) who's become interested in Mackin's method of operation. Thick As Thieves received its world premiere at the 1999 Sundance Film Festival.
Rating:
R
Genre:
,
Directed By:
Written By:
In Theaters:
On DVD:
Runtime:
Studio:
Acorn Media
Critic Reviews for Thick As Thieves
All Critics (3) | Fresh (2) | Rotten (1) | DVD (4)

One of those self-consciously quirky crime films that feel more dated as each passing second brings the film world farther away from Pulp Fiction.
Audience Reviews for Thick As Thieves
Though ultimately a familiar story, Thick as Thieves departs from the lone assassin archetype and instead makes it more of a buddy criminal movie with a quirky sense of humor. Alec Baldwin is at his usual best, with the rest of the film being made up of familiar character actors. Who doesn't work, however, is Michael Jai White, who was completely over-the-top, and seemingly out of place the entire movie. The film also certainly lacks at character development, we never appreciate the camaraderie or history behind the characters. Still, for all of its going through the motions, it is always watchable.
Jeffrey Meyers
Super Reviewer
watched this movie late at night, but I was right wide awake! The movie is a story about a thief who after a successful assignment, escapes a attempt at killing him and seeks for revenge after a black gangster who likes the fine things in live. The movie distinguishes itself from other crime movies because of the humor and the witty and funny dialog. Michael Jai White proves to be a very good actor. I knew him from Spawn, but this role is completely different and he is impressive. Baldwin is a very versatile actor who does great in his role as Mackin the thief. The other roles a nicely casted too. It is a well paced, intelligent humorous gangster movie. Rebecca DeMornay proves that you don't have to have a big role to impress. She reminded me of Frances McDormand in Fargo. I can't understand why I didn't hear about this movie before. An example of gems waiting to be discovered by the audience. I loved it.
Cassandra Maples
Super Reviewer
Not easy to come up with a title for this entry. :p [img]http://dvds.hitflip.de/dvd/the_last_bandit_thick_as_thieves_5298.jpg[/img] a.k.a., [b]The Last Bandit[/b], apparently) I watched [b]Thick as Thieves[/b] loaned to me by a co-worker. I remember seeing this years ago and only half watching. But it's a real funny film that might've thrown me off originally since it mixes comedy and violence in quite succession. I think this qualifies as a highly quotable movie, such as... "How many brothers (i.e. black dudes) drive Volvos?" "You can take the bitch outta the ghetto, but you just can't take the [i]bitch[/i] outta the ghetto!" "I'm so tired of the drama." Unfortunately I can't remember the best ones and imdb.com is no help. I wish I'd taken notes. Well, just watch it and you won't be sorry! 8/10 [img]http://images.rottentomatoes.com/images/user/smilies/fresh.gif[/img] --------------------------------------- [img]http://www.digitallyobsessed.com/cover_art1/wendigo.jpg[/img] My third viewing and I'm lovin this more and more. A definate guilty pleasure. [i]In Dreams[/i] wishes it was as much fun as [b]Wendigo[/b]. Very creepy at times with all the stereotypes and bad dialogue hardly messing it up at all. Like [i]In Dreams[/i] it looks really good. But unlike that one there is more here to enjoy. A great monster that will either make you squirm or rotfl. I actually swrotfl (squirm [i]while [/i]rolling on the floor laughing). Hot sex. ;) A creepy kid. Some first-person chasing. And an ending you might not predict. 7/10 [img]http://images.rottentomatoes.com/images/user/smilies/fresh.gif[/img] ------------------- [b]Heavy Metal: FAKK2[/b] is a PC game that was unfortunately tied to a mediocre movie sequel that many probably didn't remember or like enough to bother with a game based on it. You play a female warrior of some sort who battles all kinds of unique creatures on an oddball planet using some extremely entertaining weapons. It all looks outstanding (even years after its release) and has a very good combat system. Not one level of this game fails. It's probably my favorite of its type, even over more popular fare like [i]Tomb Raider[/i]. Anyway, I finally finished this game and I'm just bragging about it. :p Pick it up somewhere and give it a try. It's damn fun!! 10/10
James Perry
Thick As Thieves Quotes
There are no approved quotes yet for this movie.
Discussion Forum
Discuss Thick As Thieves on our Movie forum!