Rain
(2001)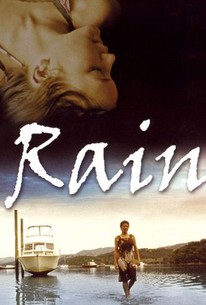 Movie Info
It is the summer of 1972. Thirteen-year old Janey and her parents settle into their isolated beach house for another idyllic seaside holiday. Janey's parents distract themselves from their increasingly distant marriage by drinking away their nights and sunbathing their hangovers. Meanwhile, Janey and her kid brother spend their unattended days playing by the ocean. Holding tight to her waning sexual allure, Janey's mother, Kate, has eyes for a drifter photographer who becomes the latest battleground in the quiet war between mother and daughter. Angered by her mother's infidelity, Janey begins to discover the power of her own sexuality, acting on her desires in increasingly reckless ways. As she rushes headlong into dark, adult waters, Janey is soon confronted with the terrible realization that in a moment everything can change forever.
People Who Like this movie also like
Audience Reviews for Rain
Good NZ coming of age story. A young teenage girl has a complicated relationship with her irresponsible mother and her little brother. Slow moving, but very realistic.
Nicki Marie
Super Reviewer
This is a very tough movie. Tough characters, tough subject matter, tough to watch. I mean this in a good way. These people are very real with real problems and real attitudes. There is a raw nakedness about the film that makes it somehow tangible and sometimes uncomfortable. The scenes are not painted nor rendered rather they are captured as they are?and they are not very pretty (save for some of the landscape). The cast are not a group of models (though the youngest boy is about as cute and wonderful an actor as they come). This movie will hit you as ?real.? The viewer is presented with a family; Husband, Wife, Daughter, Son. The Daughter appears to be the focal character, but as pivotal as she is each character is given ample time and thought. The problems that they deal with are very real. I don?t think this will be a spoiler to anyone, but in case you think it might be skip to the next paragraph. Be prepared to deal with a family on the brink of destruction, infidelity, addiction, purposelessness, coming unto teenage sexuality, and all of this combined to amount to tragedy. This film is a tragic drama that may leave you squirming a bit. I recommend this film to those who are comfortable looking at some of the more difficult things in life or who have experienced some of the same and wish to see an accurate portrayal?a film that empathizes with the pain that real life can bring.
Rain Quotes
There are no approved quotes yet for this movie.