The New Guy
(2002)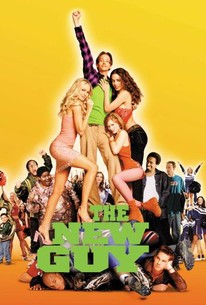 Movie Info
Former Prada model and Road Trip co-star D.J. Qualls makes a bid for leading man status in this nerd-makeover comedy. Qualls stars as Dizzy, a dorky but delinquent high school student who's determined to get expelled from his hellish high school -- but ends up landing in jail instead. There he meets the intimidating, street-smart Luther (Eddie Griffin), himself a former geek, who takes Dizzy under his wing to teach him the art of being cool. Soon Luther and his pals have broken Dizzy of his meek, maladroit ways, and Dizzy is ready to start a new life at a new high school under a new name: Gil Harris. When Gil arrives at East Highland High -- his former inmate reputation known to all -- he quickly ingratiates himself with the cool kids and lays to waste any jocks who stand in his way. He even manages to date the school's most coveted girl, Danielle (Eliza Dushku). But when a face from his past shows up, it seems that his facade as the big man on campus may be about to crumble. The New Guy also stars Zooey Deschanel and Lyle Lovett, and features cameos from rockers Henry Rollins, Gene Simmons, and Tommy Lee.
People Who Like this movie also like
Critic Reviews for The New Guy
Audience Reviews for The New Guy
Without a nexus, cliched and dumb screenplay that The New Guy lose his "quality" being just another comercial sex teen American movie. Of course the film bring also very funny scenes and a good soundtrack with funk hits. But unfortunately it doesn't save The New Guy. Rotten.
Lucas Martins
Super Reviewer
It's kinda stupid. I watched this because of my fave actress Zooey Deschanel but her underarms scared me!
Dead Angel
Super Reviewer
Not very original and unintelligent however the actors did a good job in creating a good and funny film to lighten spirits. I like DJ Qualls and he is perfectly cast and he's the best thing in it. Fairly funny but not amazingly great.
Sophie Burgess
Super Reviewer
The New Guy Quotes
| | |
| --- | --- |
| Coach: | You stole my horse, maggot! Do you know what the penalty is in this state for stealing another man's horse? |
| Dizzy Harrison/Gil Harris: | Death? |
| Coach: | This isn't Iraq, son. |
| | |
| --- | --- |
| Luther: | High school is a lot like prison: Bad food, high fences; the sex you want, you ain't gettin', the sex you gettin', you don't want. I've seen terrible things. |
| Dizzy Harrison/Gil Harris: | Yesterday, an eighty-year-old librarian broke my penis. |
| Luther: | You win. |
| | |
| --- | --- |
| Kirk: | That is without doubt the sluttiest girl I have ever seen! |
| Dizzy Harrison/Gil Harris: | I know! Isn't it great? |
| Glen: | Diz, you have to do her. And while you're with her, think of me. Okay, that sounded gay. |
Discussion Forum
Discuss The New Guy on our Movie forum!