Das Experiment (The Experiment)
(2001)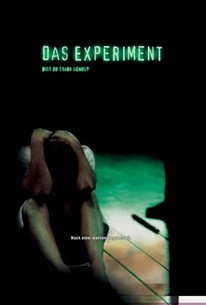 Das Experiment (The Experiment) Photos
Movie Info
A man taking part in a scientific study finds the fine line between play-acting and reality has been blurred beyond recognition in this taut drama. Tarek Fahd (Moritz Bleibtreu) is a journalist who is temporarily making ends meet by driving a taxi when he sees an advertisement offering 4,000 marks to people willing to submit to a psychological experiment. Intrigued, Tarek offers to take part in the study and persuades one of his former editors to help him work up a story about his experiences. Recording the events using a special high-tech video camera hidden in his glasses, Tarek arrives for the two-week experiment to discover half of the volunteers will pose as prison guards and the other half will be their prisoners. Before long the behavior of the subjects suggests more than just make-believe; "inmate" Tarek, in particular, is unwilling to take abuse from the "guards" and makes no secret of his contempt, while Berus (Justus VonDohnanyi) begins playing a dangerous game of cat-and-mouse with Tarek. Tarek, meanwhile, begins escaping reality by fantasizing about Dora (Maren Eggert), a woman with whom he had a brief fling before taking part in the experiment.
Critic Reviews for Das Experiment (The Experiment)
All Critics (65) | Top Critics (21) | Fresh (47) | Rotten (18) | DVD (7)
The movie's central premise -- is well supported in a film whose strength is in its close-ups on characters and its ability to put the viewer in the cell with them.
Probably it's more action film than anything else, but has enough insight to be of interest to serious filmgoers.
Globe and Mail
Top Critic
What impressed me is how effective the movie was, even though the outcome is a foregone conclusion.

Chicago Sun-Times
Top Critic
An R-rated version of Survivor, Big Brother or any number of reality-TV shows that present voyeurism as entertainment and exploitation as insight.
October 24, 2002 | Rating: 2/4
Chicago Tribune
Top Critic
Das Experiment may make an obvious point, but it's still a relevant one.

Detroit Free Press
Top Critic
In the end, it looks as if this experiment proves only one thing: People forced to play guards and prisoners tend to end up imitating bad prison movies.
October 4, 2002
Washington Post
Top Critic
Audience Reviews for Das Experiment (The Experiment)
20 men volunteer to participate in a lab experiment in a simulated prison. At first the men have a good time with it, but then things go downhill when some of the men take the experiment more seriously than others. The film is based on a true experiment, and the results are pretty much what you expect, if you're familiar with either the original experiment or LORD OF THE FLIES. Pretty grim at times, and not a feel-good film by any means. But the performances are good, and the film is involving and intense. Fans of films such as TAXI DRIVER would find things to like here.
½
Das Experiment is a theatrical "what if" inspired by the infamous Stanford Prison Experiment (1971) and Mario Giordano's subsequent novel. The script is gritty enough but there are more than a few holes and lapses of logic. Still, the overall aura of the film is gripping and intense. I'm sure an inferior Hollywood remake is already in the works (see also: RIngu, Old Boy, Let the Right One In, etc., etc., etc.)
Randy Tippy
Super Reviewer
½
Based on a real life psychological experiment, the simulated prison environment is like a ticking timebomb, waiting to see the power struggle between Guards and Prisoners unleash into violence and humiliation. A good film, well acted, but possibly not quite as good as a lot of reviews have led me to believe, I think, because the ending tends to go on for a little too long.
Lady D'arbanville
Super Reviewer
Das Experiment (The Experiment) Quotes
| | |
| --- | --- |
| Steinhoff: | It's never a game, get that? |
| | |
| --- | --- |
| Tarek Fahd: | Nothing just happens in life. Even the worst things somehow make sense. |
| | |
| --- | --- |
| Tarek Fahd: | Test subjects wanted. Earn 4000 marks for a 14-day experiment in a simulated prison. |
Discussion Forum
Discuss Das Experiment (The Experiment) on our Movie forum!