The Homecoming
(1973)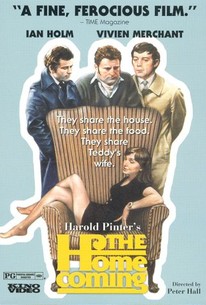 AUDIENCE SCORE
Critic Consensus: No consensus yet.
Movie Info
In The Homecoming, adapted from the play by Harold Pinter, Michael Jayston brings his wife Vivien Merchant home to visit his long-estranged family. Jayston's father Paul Rogers is a washout, his uncle Cyril Cusack is on the edge of senility, and his brothers Ian Holm and Terence Rigby are, respectively, a slimy pimp and a brutish boxer. The sparser the dialogue, the thicker the tension in the air. Though British in origin, The Homecoming was presented as part of the American Film Theatre series.
Critic Reviews for The Homecoming
Audience Reviews for The Homecoming
A man returns home with his wife, who draws the sexual desire of the rest of the men in the household. The source material is one of the best plays I've ever seen or read. Pinter's subtext and pregnant pauses are on full display in this masterpiece. But there's something special about live theater that isn't captured in this film, despite the compelling nature of Ian Holm's pensive glares. The tension on stage isn't as palpable as it is on film, but that doesn't change the fact that watching this film is a remarkable experience.
Jim Hunter
Super Reviewer
½
[font=Century Gothic]"The Homecoming" proves that it is hard enough bringing your wife home to meet your family for the first time, as Teddy(Michael Jayston), a philosophy professor living in America, is doing with his wife, Ruth(Vivien Merchant), of nine years and mother of three boys, arriving in the middle of the night to his old home in London, without his family, which is ruled over by Max(Paul Rogers), a retired butcher, being a nightmare. Max is used to terrorizing his brother Sam(Cyril Cusack), a chauffeur, and his slow-witted son, Joey(Terence Rigby), a boxer, but is getting on in age and his bite cannot match his bark anymore. And his quick-witted son, Lenny(Ian Holm), is now returning fire...[/font] [font=Century Gothic][/font] [font=Century Gothic]On the surface, "The Homecoming" is a kitchen sink drama full of the bleak desperation of the working class in London. And then about halfway through, it makes a disturbing turn, revealing the characters to be even worse than previously thought, but in general it is still the exploitation of labor, especially women and society's mistreatment of them, that is being discussed. [/font]
The Homecoming Quotes
There are no approved quotes yet for this movie.