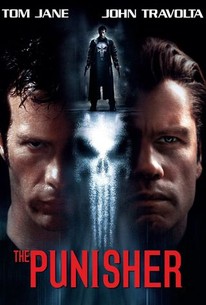 The Punisher
2004, Action, 2h 4m
172 Reviews
250,000+ Ratings
What to know
Critics Consensus
A good cast fails to elevate this overly violent and by-the-numbers revenge flick. Read critic reviews
Where to watch The Punisher
Rent/buy
Subscription
Subscription
Subscription
Subscription
Rent/buy
Watch The Punisher with a subscription on Hulu, Netflix, Amazon Prime Video, Peacock, rent on Vudu, Apple TV, or buy on Vudu, Apple TV.
Rate And Review
Movie Info
This dark action film, based on the comic book series, follows FBI agent Frank Castle (Thomas Jane) as he transforms into the vengeful Punisher after criminals murder his family, including his wife and son. Castle is gravely injured in the attack and believed to be dead by Howard Saint (John Travolta), the crime lord who ordered the hit. Following his recovery, Castle becomes a heavily armed vigilante who will stop at nothing to exact revenge on Saint and dismantle his underworld empire.
Rating: R (Language|Brief Nudity|Pervasive Brutal Violence)

Genre: Action

Original Language: English

Director: Jonathan Hensleigh

Producer: Avi Arad, Gale Anne Hurd

Writer: Gerry Conway, Jonathan Hensleigh, Michael France

Release Date (Theaters): wide

Release Date (Streaming):

Box Office (Gross USA): $33.7M

Runtime:

Distributor: Lionsgate Films, Summit Entertainment

Production Co: Partnership Films, Artisan Entertainment, Marvel Enterprises, Punisher Productions

Sound Mix: Surround, Dolby SRD, DTS, SDDS

Aspect Ratio: Scope (2.35:1)
News & Interviews for The Punisher
Audience Reviews for The Punisher
Back before Marvel decided to take over the box office this film came along, It's not a well known comic plus he's not a superhero more an anti hero and after some poor reviews I didn't expect much but I must admit I enjoyed it, It's violent, Bloody, Simple revenge plot it could of been better if the film had a darker tone, The humour was ok but not needed, With a strong cast and some good action scenes it was an enjoyable film, Just a poor script and poor acting and silly mistakes dragged it down but it's still better than I thought and as good as it ever was going to be.

[img]http://images.rottentomatoes.com/images/user/icons/icon13.gif[/img]

Every casting of The Punisher has been vastly different, Thomas Jane's portrayal of Frank Castle is quite good, he's smaller than the other two, but that's fine. Honestly I think Thomas Jane is a good addition to any film, a decision I made after watching him in The Punisher when I bought the DVD on a whim back in 2006. Much like it's 1989 predecessor, The Punisher is quite grounded in reality, the closest thing that they have to a larger than life villain is a muscular Russian who doesn't speak. It's not necessarily a good thing, as the film's meant to be about a comic book character. Speaking of comic books, this film is vastly different from the comics it is based on. It doesn't go in to effecting my final score of the film, but you have to be careful when you know you're gonna be pissing the fan boys off. Having said that, the fan boys were very pissed off about the Casting of Jane in the leas role, when in actual fact he's the best thing in the film, so maybe the fan boys should just shut the fuck up. It's not exactly anything we haven't seen before, in fact, much like the original Punisher it's more or less a carbon copy of Mad Max, right down to the suped-up armoured car. It has this interesting feel of a little bit serious thriller, a little bit Super Hero action and a little bit comedy, yet it fails to knock into any of t he three categories, and instead sort of sits around somewhere in the middle, not really doing a whole lot, which is one of the films weakest points. John Travolta was an interesting choice of villain. I can't decide whether I found him believable or not. He can pull off mobster fine but I don't know that I like the direction his character went in, or the character at all. The Punisher is just a sort of deal that needs to be dark, Travolta doesn't pull it off, the setting of Florida doesn't pull it off, a singing assassin doesn't pull it off, and the quirky kids-next-door-sidekicks don't pull it off. All that aside, there's not really anything that's strictly speaking bad about the film, in comparison to its one or two things that I would classify as good. I review this film independently from its franchise, particularly its comic book origins, and if I didn't I'd have to mark it as a complete failure. But if you go in there with no knowledge of The Punisher, or pretending you have no knowledge of The Punisher, it works pretty damn well as a stand alone action movie, more than it does a Super Hero film. 63% -Gimly

First reboot for the franchise since the underrated Lundgren flick. Admittedly Lundgren had the physique for the role but wasn't a naturally dark haired man, so this time they chose...a naturally blonde haired guy??. The plot was based around a few Punisher story lines from the comic book world and is an origins plot line. So we start off by seeing 'Castle' as a regular guy and top undercover cop, we get all the family life guff and this does actually take up quite a bit of the film early on. At one point it does get a bit dull and I started to yearn for some action. The plot is also more of the Punisher fighting one group of bad guys, he's not a vigilante killing lots of bad guys, he fighting one particular group. At first I didn't like that but the finale clears it up so. When the action does hit so do the problems. First off the 'killing' of Castle, how the hell did the bad guys mess that up?!. Normally when someone is gonna get whacked they are shot in the head point blank, simple, but in this film its just stupid. The bad guys have Castle but shoot him in the chest?? not even in the heart but the other side! eh? surely you'd shoot him in the head??. They then pour gasoline over everything accept Castle and set it alight, so everything burns accept Castle, oh and then it all blows up. Castle then manages to survive for what seems like quite a long time before getting picked up. So he's shot point blank in the chest, survives a gasoline explosion point blank range and still lives on...after the bad guys fail to shoot him in the head and fail to burn him up. So that whole sequence fails in two ways then. This film has various issues that didn't sit well with me. Being set in Florida for one thing, the film seems quite bright and sunny all the time because of the location. It doesn't feel right for a dark character like this, its like shoving Batman in Hawaii, the action may still rock but the atmosphere just isn't right. Then there's the issue of Jane as the Punisher, again like Dolph he has the physique but he's blonde!! and all the time I'm thinking his hair looks dyed...because it was obviously. Its a minor quibble I guess but just like Dolph he hasn't got the stubble line either because he's fair haired, is it really that hard to find an actual dark haired man for this role??. So if you put the smaller issues aside what next? well nothing really happens in this. He gets killed off, then announces to the world he's actually not dead which ruins the whole point if you ask me, and then nothing happens!. We don't get any real revenge killing until the finale. He battles two assassins, one is a complete copy from the Rodriguez film 'Desperado' and the other kinda looks like a cross between 'The Sandman' and 'Zangief' out of 'Street Fighter II' and is dressed like a cartoon character. Admittedly the fight against the enormous Russian was quite good but that was it. There are too many sappy moments in here too, attempts at some humour which don't really fit and the characters who live with Castle are terrible. The bad guys again aren't really very memorable either, Travolta is kinda miscast as the main villain and merely comes across as his character from 'Swordfish' (and a few others). The only other bad guy of note would be Will Patton as Travolta's main sidekick, interesting touch making him homosexual but wasn't explored enough, fresh though. On the whole the bad guys were definitely bad enough but just totally bland and generic, unlike the 89 version this film didn't have the explosive fun action to get around that. The slaying of 'Saint' at the end was laughable, not only is there no guarantee he was actually killed (seeing as Castle managed to survive his ordeal), but the iconic skull motive left by all the burning wreckage was just plain dumb (and a 'Crow' rip off). What was the point of it?? no one would ever see it unless in a helicopter!. I'm pretty sure it would be impossible to actually do on the ground and take ages to arrange, when did he get the time??!! so stupid. The film finally comes to life in the finale as Castle finally takes down all the bad guys, the sequence is what you're waiting for the whole time. Had more of this happened throughout the film it may have been much better, but in general there are many bad decisions here which I just don't understand how they were agreed on.
See Details