Sniper 3
(2004)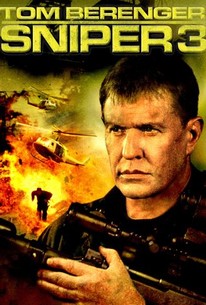 AUDIENCE SCORE
Critic Consensus: No consensus yet.
Movie Info
Tom Berenger returns to the role of Gunnery Sergeant Thomas Beckett in the action thriller Sniper 3. This time around, the Marine sniper must hunt down his best friend who has become a dangerous spy and criminal mastermind attempting to manipulate the United States and the world.
Critic Reviews for Sniper 3
Audience Reviews for Sniper 3
½
After the mediocre second film, I actually found myself quite enjoying this third film. Although nothing original, the film manages to be quite decent despite threading familiar ground. The story here is a bit different, and I think that's why the film manages to be what it is. Of course the Sniper films were never meant to be great cinema, but for what it is, Sniper 3 is the better sequel, and it should have been the direct follow-up to the original. The second film never tried too hard at being a standout action film, and it had the potential of being a great film. Unfortunately, it ended up being a disappointing feature. However with this, the filmmakers have created something pretty entertaining and for what it is, it's a pretty decent straight to DVD title. The film is entertaining and manages to be worth your time, even if it's far from perfect, but it's one of those films that manages to work well enough for fans of low budget action fans looking for mindless entertainment. This entry is quite interesting and improves on the lacking qualities of the second film. Tom Berenger here is quite good, and makes the film worth seeing if you enjoy the genre. Sniper 3 is far from perfect, but it does possess enough thrills to appeal to fans that have enjoyed the first film. If you were disappointed by the second film, and wanted a film that retained the traditional franchise elements, while reinventing itself, this third film might interest. Like I said, for what it is, it's quite decent, never anything great, but it does work well enough to entertain when you have nothing else better to do.
½
Not very good, but not awful either...this film is perfectly mediocre. Berenger is great as usual, but aside from that, there's not a lot noteworthy about this one except that sometimes you can tell they didn't have a good budget. Thankfully this is noticeably better than the second film, but unfortunately, not nearly as good as the first.
Stephen Skudlarek
Super Reviewer
This was a third class cup of tea but I could live with it as long it was only once. lol to the Quote
Tom Beckett: If I need to wake up by Clowns I ll join the circus"
Sniper 3 Quotes
There are no approved quotes yet for this movie.