A Snake of June (Rokugatsu no hebi)
(2002)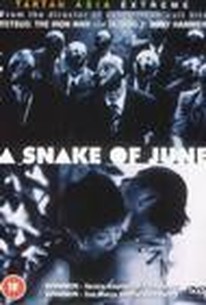 A Snake of June (Rokugatsu no hebi) Photos
Movie Info
Shinya Tsukamoto's Rokugatsu No Hebi (A Snake of June) is an erotic drama abut a married couple. Rinko (Asuka Kurosawa) and her husband Shigehiko (Yuji Koutari) have seen their marriage become sexless, which frustrates Rinko. One day she receives a letter containing pictures of her pleasuring herself. The person who sends the letter calls her and reveals himself to be Igushi (Shinya Tsukamoto), a former psychiatric patient of Rinko's. Igushi begins to order Rinko to perform increasingly erotic acts. After Shigehiko finds one of Igushi's letters, the husband becomes involved in the mental games - with surprising results for their marriage. A Snake of June was screened at both the Venice Film Festival and the Toronto Film Festival. ~ Perry Seibert, Rovi
Critic Reviews for A Snake of June (Rokugatsu no hebi)
Audience Reviews for A Snake of June (Rokugatsu no hebi)
½
Mweh.. this is typically a movie written and directed by a man (don't worry, I'm not a raging feminist), so annoying. It totally missed it's goal. It's about the woman, taking control of her sexuality, or that's the intention I think, but how she's coaxed into doing this is utterly ridiculous. That really is all I have to say about this movie.
½
Another creepy and unsettling Japanese drama from director Tsukamoto (Jijii from Ichi The Killer) who's brought such wonderful family classics such as Tetsuo: The Iron Man. Shot in black and white then washed in blue, the film is absolutely soaked in water--constant rain, sinks and showers, all running down into various drains. This is a wet, wet film; well, June is the rainy season in Japan, apparently. An extremely art-house film, with experimental-type camerawork and editing that makes it hard to follow at times...hell...most of the time. Still, the visual style sets the tone for a story that centers around various taboos in Japan. The tone of the film, a mixed bag of pink films and film noir, suggests that the whole thing is headed for a bitterly tragic doom.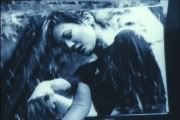 El Hombre Invisible
Super Reviewer
½
I'm guessing if you sent David Lynch to Japan to remake Saw this is what you'd get. Stylish, puzzling and pretty fucked up. I hated the better part of the first hour and nearly cursed this movie's existence. That metal dick thing was... I'm sure explainable only in Japanese. The more I think about it the more I like it. A Snake of June is very erotic and reasonably sexy (the Japanese she-mullet thing was a little rough.) Not amazing but definitely worth checking out.
Michael Gildea
Super Reviewer
A Snake of June (Rokugatsu no hebi) Quotes
There are no approved quotes yet for this movie.