No Direction Home: Bob Dylan
(2005)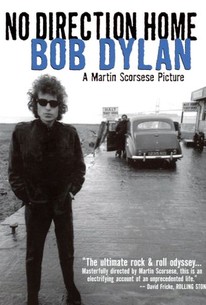 No Direction Home: Bob Dylan Photos
Movie Info
Renowned director Martin Scorsese's documentary No Direction Home: Bob Dylan chronicles the career of the singer and songwriter during the tumultuous years between 1961 and 1966. Dylan allowed Scorsese to have access to hours of footage that had never before been made public, including a number of live performances, and footage of Dylan in the recording studio creating some of his landmark albums from the period. Dylan sits for an extensive interview, as does a variety of people who worked with him during this time period, including Joan Baez and fellow songwriter Pete Seeger. The film debuted on PBS stations around the country on September 26, 2005.
News & Interviews for No Direction Home: Bob Dylan
Critic Reviews for No Direction Home: Bob Dylan
Audience Reviews for No Direction Home: Bob Dylan
What I liked about this is that it shows the cluelessness of the press who interviews Dylan as a phenomenon not an entertainer--"do you think you should be the leader of the rebels of your generation" "would you suck on your sunglasses for a photo" etc. The questions they asked him at the press conferences were so ridiculous, I definitely felt his pain as he tried to be polite while at the same time wanting to tell them to bugger off. I am a Dylan fan without being a Dylan worshiper. This is the first time I saw him interviewed or perform except for a lackadaisical show in Boston a number of years ago where I thought he probably had the flu--everyone else did. Anyway, I was surprised at his physical beauty. Surprised at his artistry. Surprised at the ordinariness of Joan Baez who was gifted with angelic pipes but given the curse of wanting to sing for a cause which negates the whole entertainment thing which Bob Dylan was after and for which I admire him. I admire his foray into rock and other genres and experiences. As he says, "if you're not busy being born,you're busy dying."
Bathsheba Monk
Super Reviewer
½
Probably the best music documentary I've seen. This masterpiece focuses as much on the roots of Dylan as Dylan himself.
Graham Jones
Super Reviewer
Great for what it covers, especially the actual Dylan interviews Scorsese carries on with him "now." There's nothing better than hearing Dylan talk about Dylan. Now if only Scorsese could do a documentary that brings us up to the present.
Lanning : )
Super Reviewer
No Direction Home: Bob Dylan Quotes
There are no approved quotes yet for this movie.