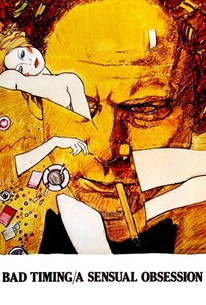 Bad Timing: A Sensual Obsession
1980, Drama, 2h 3m
13 Reviews
2,500+ Ratings
Where to watch
Rent/buy
Rent/buy
Rate And Review
Bad Timing: A Sensual Obsession Photos
Movie Info
Alex Linden (Art Garfunkel) is a psychiatrist living in Vienna who meets Milena Flaherty (Theresa Russell) though a mutual friend. Though Alex is quite a bit older than Milena, he's attracted to her young, carefree spirit. Despite the fact that Milena is already married, their friendship quickly turns into a deeply passionate love affair that threatens to overtake them both. When Milena ends up in the hospital from an overdose, Alex is taken into custody by Inspector Netusil (Harvey Keitel).
Rating: R

Genre: Drama

Original Language: English

Director: Nicolas Roeg

Producer: Jeremy Thomas

Writer: Yale Udoff

Release Date (Theaters): original

Release Date (Streaming):

Runtime:

Distributor: World Northal

Sound Mix: Mono

Aspect Ratio: Scope (2.35:1), 35mm
Audience Reviews for Bad Timing: A Sensual Obsession
Two cold war spies (Art Garfunkel and Theresa Russell) enter into an ill-fated and apparently pointless, cat and mouse romance, but we don't realize it's going nowhere until we've sat through it to the end. Russel is sent to the West by Denholm Elliot (an intriguing character actor whose talents are squandered here) to attract Garfunkel, a CIA'd-up psychiatric professor, who simultaneously receives a dossier on Russell. There's lot;s of rough sex, and a near fatal drug overdose, but little actual intrigue, point or purpose. The most the film has to offer is that the story unfolds in such a way, via Garfunkel's flashbacks, that we get some interesting insight into Garfunkel's character by the end, and reality turns out to be something different from what we had assumed. However, the character insight we get is the kind that would be more relevant to relationship drama than a cold war character study -which Bad Timing purports to be. One oasis of satisfaction in the film is Harvey Keitel's performance as an East German Stasi and Czech Secret Policei-collaborating West German inspector. Keitel was born to play sinsister characters who lead twisted double lives, and his part in Bad Timing primes him for future roles such as the detective in Cop Killer (aka Corrupt, 1983 -see littlemissbloodandguts' review - http://www.flixster.com/movie/copkiller#review:845662639_770705287), Bad Timing's worth a watch but if you're looking for cold war romance and intrigue under the came roof, try The Russia House (1990), or The Double Agent (1962).

Wonderfully directed by Roeg with good performances from Harvey Keitel.and Theresa Russell. I'm not a huge fan of Art Garfunkel.

I'm going to refer to my friend Steve's review on this one except to add that Theresa Russel looked an awful lot like Amy Irving then, and Tatum O'Neal now. Oh, and Theresa Russell shows snatch in this.

Bad Timing is not an easy film, but one that rewards effort. Art Garfunkel joins the line (Jagger, Bowie) of singers who produced career best acting performances for this director - the scene of him smoking while staring over a bridge into the abyss of his life is worth buying the dvd alone - and Theresa Russell is simply incendiary. The story is a relatively simple one of how two people who should never have got together become obsessed with each other, but is told in Nicolas Roeg's fluid, labyrinthine style with flashes back and forward and disconcerting edits. The sexual content is extreme for some tastes, but raw and painfully honest in a way which defies simple titillation. Intense work from one of the giants of British and world cinema, now sadly neglected, and one of a string of great films, Performance, Walkabout, Don't Look Now and The Man Who Fell to Earth which mark Nicolas Roeg out as a great director.
See Details